Tuesday, April 3rd, 2012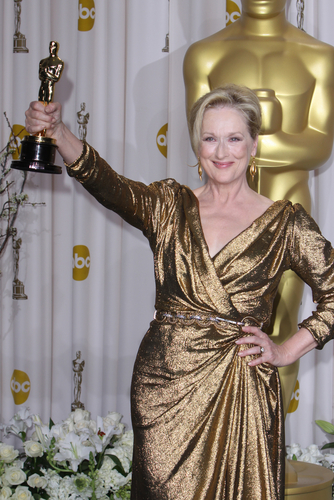 As recently as a few years ago, women of all ages were seeking out any cures they could find for gray hair. The belief that gray hair is a bad thing and should be eradicated at all costs is a concept that goes back many generations, perhaps to the invention of hair dye. But in the past year or so, trend-setters from all realms of celebrity have begun to not only embrace their ivory locks, but flaunt them with pride.
Perennial award winning actress Meryl Streep has been openly rocking her beautiful graying hair since 2006, when she said in an interview with Hollywood foreign press that she feels very confident and normal underneath gray locks. Just a few weeks ago she unleashed a new short-haired look at the 2012 Academy Awards, and once again all eyes in the building were glued to her.
Having the love of millions of adoring fans and the attention of the fast-moving fashion world, anything that super-celebs such as Streep do that can qualify as out of the ordinary is sure to become a trend, so salons all over the nation are stocking their shelves with products that can accentuate gray hair. Many salon owners expect women with gray hair to cease asking for it to be colored and those without it requesting it now that it is quickly becoming a national trend.
Indeed, the gray hair wave is building up to tsunami-grade, and a bevy of products have recently been released that are designed to allow you to get the most out of your lighter shade. When treated and conditioned correctly, gray hair can have a luster and a shine that is unrivaled by other hair tones, allowing it to draw a lion's share of the attention in any social situation.
The current popularity of gray hair may sever a double purpose as it allows women that were once made to feel self-conscious and perhaps even inferior to feel comfortable in their own skin and underneath their natural hair colors.