First Day of Beauty School Tips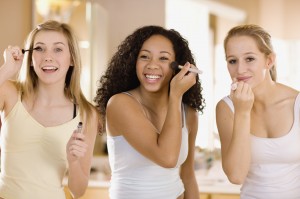 One can never overlook the importance of that nerve-raking, angst-filled first day of beauty school. It's the day, probably more important than any other. It's the time to physically show yourself and showcase your talents. Ultimately, looking your best isn't an option – it's a necessity, and we'll help you get there with a these four beauty school tips.
Beauty Tip #1: No bad hair days here.
You know that besides the clothes you pick out that your hair is the biggest priority on the first day of beauty school, especially if you are attending a hair design school. Here are some pointers for good-looking, fashionable hair styles.
Many beauty students want to retain that trendy look when getting back in the swing of things but they also want to appear sophisticated and be taken seriously. Opting for versatile, creative haircuts are essential for beauty students. Fashions like Sedu hair styles (the sleek, straight look), French twists and medium length hair styles are popular options for beauty students. Some of today's most popular trends are the bob or short-hair styles that are quick, easy and manageable. Hair styles with bangs or fringes are in, as well as blending a layered look with an intimate form of personal expression.
Tip #2: Keep that skin soft and glowing.
Summer may be over but that doesn't mean that your tanned body has to be. Achieving that extra bit of color physically implies that you had a good summer – got outdoors, refreshed and took care of yourself. Always remember to exfoliate and keep moisturized to prevent any flaking or dryness as the air begins to change from summer to fall to the harsh winter. Also is a great one to tell your fellow students in your esthetician program.
Tip #3: Make your eyes a focal point.
Playing up the eyes with fun and colorful eye shadow affords you creativity and originality. Interesting tones like gray and silver are subtle, but add just enough edge to look visually vibrant. Blending colors together is also ideal if you're looking to create a custom shade. Checking out the current colors that celebrities are wearing is a good idea and also brings inspiration for looks to try out in a makeup artist program.
If you're going to do something prominent with your eye makeup just make sure that the rest of your face makeup is toned down. Being young, your skin doesn't need an excessive amount of foundation of blush – keep it simple. Some black mascara and a little clear lip gloss will give you just enough of that desired chic look without going overboard.
Tip #4: Let your nails match your colorful personality.
Use the latest colors when it comes to your nail polish (a very important tip for nail technicians in training!) Remember to keep your nails short and squared or oval when rocking dark colors like burgundy, navy or black. Keep in mind your skin tone when choosing dark colors. Those with lighter skin can use the same color scheme but in a lighter shade to stay fashionable. It's all about expressing yourself, your personality. Let you nails reflect that.
Now that you've got the scoop on the beauty school trends this year, it's time to put them into action. Make a statement when you go to beauty school – make a statement and show your skills.
Last updated by admin at .
Tags: Beauty School General, Beauty Tips, esthetician program, hair design school, nail technicians