Friday, May 18th, 2012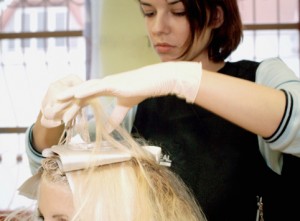 Finding the right school is a huge part of having success in your future career. Being part of a learning community can be the greatest experience of your life, preparing you with knowledge and training for your future job and providing the opportunity to build friendships and business relationships that will last for years.
For most of my friends in high school, the idea of a "learning community" was represented by a typical four-year college. I didn't know many other people that were looking into cosmetology as a career, so I struck out on my own looking for a school that fit my needs. Here are some of the lessons I learned on my journey; maybe these tips can help you find a school that will bridge the gap to your future career and put a smile on your face!
Tip 1: Just right! As I looked for cosmetology schools, I quickly got the feeling that the right kind of school was just like Goldilocks' porridge: not too hot, not too cold, but just right. Some schools called me repeatedly, even up to multiple times daily! Others seemed to be completely indifferent to my presence. The school I chose struck a perfect balance. They seemed warm and welcoming, but not desperate and cloying; within a few minutes there, it felt like home. Make sure the school you choose strikes that balance.
Tip 2: Notice the atmosphere. As I watched the other students at the school, they seemed to be having a good time; there were plenty of opportunities for training, but nobody seemed overworked or abnormally stressed. The staff was professional and friendly; they always made sure to explain techniques and to help resolve any problems that arose; they'd even "fix" a haircut if needed! At the same time, hard work was encouraged and expected; this gave the students a sense of security that no one could fulfill their certification hours by simply "slacking off" in the back– no one got a pass to be lazy!
Tip 3: Can they meet your financial and professional needs? A good cosmetology school will have options, such as payment programs, to help students who are on a budget. In addition, many schools offer to "guide" you to a job in a salon after graduation. Good schools have relationships within the salon industry. If a school isn't guiding its students toward jobs, you have to ask: why not?
The last thing to remember is to take your time and get it right. After all, this is an investment in your future; make sure you go to a beauty school that will help you hit the ground running!