Don't Forget the Dudes: Careers in Barbering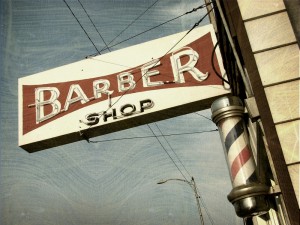 Beauty blogs are almost always geared toward women rather than men. This may make sense stereotypically, since oftentimes men aren't too concerned with beauty. But the time has come to pay homage to an equally important segment of the beauty industry – the barbers. The barber job description includes cutting, trimming, shampooing and styling hair for mostly male clients or at male salons. They may also fit hair pieces, offer scalp treatments and shave facial hair.
An important attribute of a great barber is, of course, being able to chat it up with the customers! In American culture, barbers are affectionately displayed as manly men, always cracking jokes and putting entire shops at ease. Entertaining barbers can be seen in movies such as Barber Shop or Gran Torino. According to the Bureau of Labor Statistics, barbering careers should remain steady even during the recession. If conversation comes easily, a well-groomed appearance is important and you are a detail-oriented person, a barbering career could be for you.
The coolest thing about barbering? It doesn't take long to go through barbering school and kick off a successful career working in a male salon.
Last updated by admin at .
Tags: barber school, barber training, barbering, Beauty School General, cosmetology school