Cosmetology Continuing Education Classes
Why Continue Your Cosmetology Education
Continuing your cosmetology education is imperative to staying on top of industry trends, updating your skills and keeping your cosmetology license current. Most states require a minimum number of beauty continuing education hours to be able to renew your license. Choosing one of the many cosmetology schools with continuing ed classes to stay current is the first step! Continuing cosmetology education is a huge factor in keeping your clientele current and happy, as well as being able to stay competitive in a booming beauty industry. Many continuing ed courses can be taken online, but most beauty professionals choose hands-on experience from a reputable cosmetology school. Find cosmetology continuing education near you to get started on continuing your beauty education.
What You Learn in Cosmetology Continuing Education
You may do your continuing ed classes through in-class lectures, beauty textbooks, and/or hands-on training in a student salon. Continuing education courses keep you well-versed in beauty services such as hair, nails, makeup and skin care – but the programs and requirements vary from school to school or state to state. Some continuing education classes may involve updating salon safety and sanitation procedures. Others may train you on the newest hairstyles or nail technology techniques. (Look up your state cosmetology license requirements for specific states' cosmetology continuing education hour requirements.) To ensure you are getting the beauty education that matches your needs, request more information from the beauty schools and ask them about their continuing education programs before enrolling. To find out more about what you will learn in beauty school continuing education, check out the continuing cosmetology beauty training guide.
Continuing Education and Your Cosmetology Job
There are tons of cosmetologist jobs and careers out there at the more than 300,000 U.S. beauty salons, not to mention a ton of other career paths a beautician could take. It is certain that these salons and other beauty businesses expect their cosmetologists and related beauty professionals to be at the top of their games, and continuing education classes are necessary to ensure this. They expect their employees to be knowledgeable about beauty industry trends, salon safety and sanitation requirements, and be at the ready to offer advice and prescribe beauty regimens to clientele. If you want to be a trusted and respected member of the beauty trade, not to mention keep your cosmetology license renewed, you must regularly jump at opportunities to enhance your beauty education with continuing education classes. With more than 2,000 beauty schools in the nation to help you continuing ed classes, there is no reason to be anything less than the best!
Find Continuing Education
Schools Near You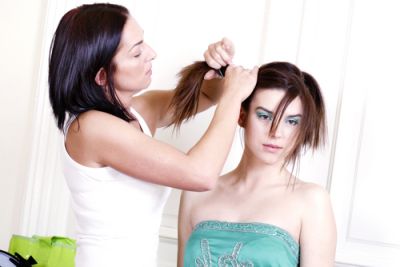 BeautySchool.com offers you the ability to search for cosmetology continuing education schools in your area to find a quality cosmetology institution that fits your needs. Upon completing your cosmetology program, you can obtain your state cosmetology license and begin a rewarding beauty career.