Beauty Trend Weekly Rundown – April 23, 2012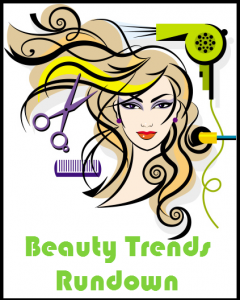 As I'm sure you know, I love talking about makeup, beauty products and the latest makeup trends. So in between looks at DermStore's latest photo shoot, I chatted with the makeup artist, Liza Zaretsky, about what she saw on the fall runways and what our faces should be wearing this summer. Make sure you check out her tumblr, she has tons of fun inspiration photos! SUMMER LOOKS: Go Bronze, or Go Home: Bronzer is pretty self-explanatory, but you can take this trend a step further and use the bronzer on your eyes and find a bronze lip gloss for a bronze monotone look.
Summer is all about effortless style. Vibrant manicures, fun lip color, and simple up-dos are perfect for punching up your warm-weather look. Up-dos were all over the runways last season, and my favorite was the double-knot bun. Easy to achieve and appropriate for almost every summer occasion, here are five simple steps for getting that perfect summer up-do: 1.) Sprits dry hair with volumizing product to give your hair a thicker texture.
Purple has always been a hard color for me to wear. Unless it's on my fingertips, I have typically felt like wearing purple makeup makes it look like I have been punched in the face. But with this season's trending shades of plum, lilac, aubergine, and violet, rocking purple is easier than ever before! And sexy at that! Here are a few ways for you to wear purple on your lips, lids, and fingertips.
Make these flirty long hair styles for spring work for you. Play with your texture and length using a few simple yet voguish styling ideas. Sculpting long locks may steal a few precious minutes from your spare time. However, the impression you make with perfectly-polished and radiant tresses is simply stunning. The following flirty long hairstyles were envisioned by our fave stylists who just can't get enough of experimenting with brand new styling techniques. To give your strands a fabulous vitality boost don't forget about the importance of deep conditioning and regular trimming. Thee ultra-feminine and voguish hair designs suit virtually all face shapes.
Looking for information in order to help you begin training for a career in cosmetology, esthetics and skin care, nail technology, massage therapy or hair care? BeautySchool.com has the right cosmetology school for you.
Last updated by admin at .
Tags: Beauty School General, cosmetology school, hair trends