Your Guide to Two-Tone Hair like Lauren Conrad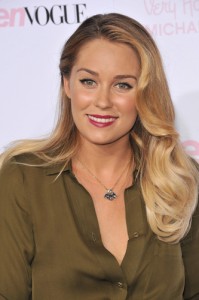 Have you noticed that two-tone hair has been getting the celebrity thumbs up from the likes of Lady Gaga, Lauren Conrad and Jessica Biel? From the runways to the red carpet, the famous and the beautiful are increasingly giving this trendy touch-up their stamp of approval.
The best part about this stylish look, though, is that it's easy to maintain and can be done by yourself. With a little effort and know-how, you can wear the same look that celebrities are using to turn the world of fashion upside down.
The first thing to remember is to work with your natural color. Trying to turn that rich auburn mane into a platinum-and-pastel 'do might be a recipe for disaster (or at the very least, cost you a great deal of time and money). The best rule of thumb is to start by using your natural hair color as a base. Think of it as the palette for your tonal experiments. Try accenting, such as touching up the tips or highlighting under layers, before adding color for a bolder look. Highlights become the basis for your bolder colors, and your two-tone look can take off!
One of the easiest ways to accomplish this look is with a home lightening kit. These can be found at your local drugstore or pharmacist. Always remember to use gloves and an application brush (they are usually provided).
Once you have brushed your hair thoroughly and mixed the kit according to instructions, dab the mixture onto the ends of your hair. Don't be too precise; this look is designed to be a little wild! Make sure that you follow the guidelines for achieving your desired color, and it helps to be realistic about expectations! If you have darker hair, you may not come out as blonde as you liked, or might need further treatment.
At any rate, it's important to remember to use conditioner to keep the lightened hair from getting brittle.
Now, it's time to paint. Add to your canvas with splashes of color and shade; for blondes, pastels are best. This hot look will be sure to wow your friends and men alike, giving you the look that's tearing up the runway.
Last updated by admin at .
Tags: celebrity hairstyles, Celebrity Trends, hair trends, lauren conrad