Saturday, February 25th, 2012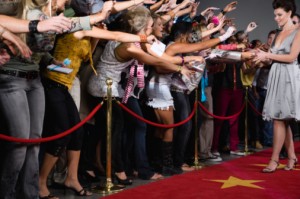 Spring is here and with it comes warm weather, a little rain and a lot of color! While color is a sign that nature is gearing up for change, color can also help to update and modernized our look as well. As spring approaches, some women will want to complete their seasonal style transformation with a new and exciting hair color or stylish hair cut. If you're wondering how you can infuse the spirit of spring into your day-to-day style, go bold with a brightly colored tress. Or, if bold colors aren't your style, try muted tones of silvery blond or gray. Either way, you'll be on trend and ready for spring!
Go Gray
One of the biggest hairstyling trends that has carried over into 2012 is color. Interestingly enough, the color for the day is gray. Whether you are young or a little more mature, gray is the "it" color of the moment. Gray tresses have been popping up all over fashion magazines and runways – proving that gray is not just for the Bing Hall anymore. Hollywood starlets like Katy Perry and Kelly Osbourne have been spotted sporting the Geriatric Couture hair colors. While Katy Perry is currently sporting an electric blue tress, she has been known to accent her baby blue locks with silvery blond highlights. Kelly Osbourne, on the other hand, is probably best known for her all-over blue-gray tress.
Get Some Color
Last year, one of the hottest trends in hair was ombre color blocking. The ombre trend was huge because it can be applied in a variety of color applications and works for women of all ages. One of the easiest ways to incorporate the ombre trend in your hair color is with darker roots and lighter tips. Several celebrities are sporting this look including model Kate Moss, actress Diana Argon, and television personality Kloe Kardashian. This trend works well with blonds or brunettes and involves blending darker-toned roots with honey, brown and blond ends. If you are looking to jazz up your ombre color, try adding a hint of vanilla blond to your tress or a bold, bright color.
Color isn't just for blonds or brunettes, redheads can certainly get in on the fun too! This spring, redheads should think about turning up their color. Celebrities redheads like Christina Hendricks and Emma Stone have put redheads back on the map with their intensely rich shades of red. If you are really bold, opt for rainbow styling and try a shade of reddish/pink or a ombre design using red tones.
Go To New Lengths
One of the biggest hair trends for spring are short hairstyles. The pixie cut and the bob are back with a vengeance and have been revamped for 2012. Try a modern bob that is accented with color and textured with waves or curls. Or, leave your short style straight and slick it back with a styling gel for a carefree wet look. Australian actress Rachel Taylor and English actress Keira Knightley have both been spotted sporting this trend.
If you have a medium length tress, talk to your stylist about pinning your hair under for a faux bob without the commitment of cutting your hair. While short styles are on trend, women with long locks may want to take advantage of their length with elegant and messy updos that give the illusion of shorter locks. Add fun hair accessories like feathers, clips and necklaces to take your updo from fun to fantastic!
If you are looking for a start into the fashion trending industry, finding a beauty school or cosmetology school might be the best idea.