Friday, January 27th, 2012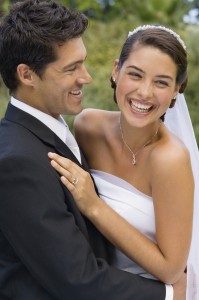 The perfect dress is nothing without the perfect wedding hairstyle to complement it. Your hair is basically an accessory that you must plan for accordingly, so you look and feel beautiful on that special day. You can make sure you look amazing and feel confident by heeding a few suggestions.
Prioritize Your Pre-Bridal Appointment
Your pre-bridal appointment is a crucial step in preparing you to walk down the aisle. People think that it's only for the hairstylist to practice, but it's just as important for you to see the hairstyle in action and tweak what you do or don't like. Ask your stylist for advice regarding which hairstyles will look best based on the neckline and other aspects of your dress. You'll also want to inquire about how long you should grow your hair because longer doesn't necessarily mean better. After your stylist finishes your hair, you can decide whether you like it or not. Even if you aren't fond of it, you still learn what not to do for your wedding. Remember to bring all of your hairpieces and accessories with you.
Get Real
If you expect to bring in a picture of your favorite celebrity's tresses and leave the salon looking exactly like her, you'll probably be in for a little disappointment. Her style cost her thousands of dollars and may have taken all day. Not to mention, her look may have used extensions and other added features that your budget may not allow for. Instead, pick pictures as inspiration and allow for some flexibility based on your own hair's thickness, length and texture.
To Wash or Not to Wash
You've probably been told not to wash your hair before you style it because it holds curls and other styles better, and this is true for most people – to a point. The natural oils in your hair can help to maintain a healthy shine and keep your hair in place, so you shouldn't wash your hair right before your wedding. Instead, wash it the night before. Note: You'll still want to consult your hairstylist for exact washing instructions in case you have hair that is prone to oil buildup.
Weather Isn't Always Your Fair-weather Friend
Make sure you take into consideration the weather when you're planning. If you're not going to get married in your area, you may want to do some research. You'll want to know what the average humidity is because curls and low-flowing styles don't withstand high humidity well, especially if you're having an outdoor ceremony.
Trending This Year
Each year brings new trends for wedding hairstyles. Updos are still very much in style, but nontraditional, softer looks are what's in this year. For 2012, many hairdos are starting at the nape of the neck for a more laidback look. It's not all about bejeweled tiaras and diamond-studded barrettes anymore. Many brides are opting for real flowers give their hair a fresh and whimsical look. You may opt for silk flowers, as well.
Leave the Crewnecks in Your Dresser
The absolute No. 1 tip for having great hair the day of your wedding is to wear a zip-up hoodie or a button-up blouse when you go to get your hair done on your wedding day. You don't want to mess up your wedding hairstyle when you remove your tight shirt over top of your head.