Thursday, October 13th, 2011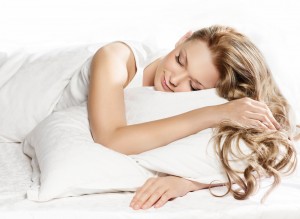 Wish you could get up out of bed and be instantly prettier? Of course you do. If you could altogether avoid or cut in half the daunting task of dolling yourself up for the day – wouldn't you? Absolutely!
Well, now you can with this list of 5 ways to wake up prettier. No more of those days at work having someone tell you, "Ooh, you look tired." Nope! You can kiss those days goodbye.
Shower it – then braid it
If you want to achieve that nice wavy look, then stick to this old motherly secret. You've heard the saying, "If it isn't broke, don't fix it." Well, this bedtime beauty secret is old school for a reason – it's not broke, so don't fix it!
Double layer it
Wearing primer over skincare products at night might sound odd, but it allows them to sink in and work their magic. Try it out if you're a non-believer and see how good you look in the morning.
Keep it tamed
Want to protect yourself from the reincarnation of '80s riot hair? Then flip your hair upside down, pull it into a ponytail and secure it tightly (but not too tight – you've got to sleep comfortably after all) with a hair tie. No more striking a morning pose looking like Madonna.
The rub
You're not the only one who wants to be comfortable when you lay yourself down to sleep at night. Your skin wants – no, deserves – to be comfy, too. Next time, moisturize yourself all over – elbows, knees, toes, ankles, armpits. If you can name it – moisturize it.
Get the glow
Self tanner is an important beauty product for maintaining exceptionally vibrant skin throughout the year. The best time to apply it? Right before bed. By self-tanning before bed and letting it dry overnight, you'll find yourself waking up radiant-er.
By utilizing these 5 beauty-before-bedtime tips, you'll be well on your way to waking up prettier and saving yourself that bothersome task of getting ready in the morning.