Sunday, May 20th, 2012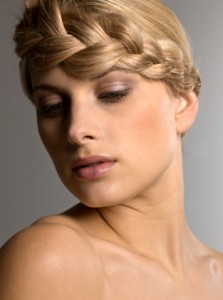 Braids were all over the runways this season including Fendi, Miu Miu and Isabelle Marant. This easy summer styles adds unique texture to your look. It also keeps the hair out of your face! The following lists represents the best and easiest braids that you can do yourself to keep your look fresh and trendy.
1) French Chic- The French Braid
The classic French braid is one of the easiest to do. It also looks great in every situation from the beach to an afternoon wedding. This braid is easy to start do; start at the crown of the head and work your way towards the end of the hair by adding strands in to the braid. It is that simple! You can also make this braid more interesting by doing two braids or doing a reverse french braid starting at the nape of the neck. For a super cool celebrity look, french braid from one side of your head to the other to create a super cool crown of hair! This is also known as the crown braid and it can take some practice. However, do not worry about the braid being perfect!
2) Simple and Easy- The English Braid
The standard braid is also known as the English braid. It refers to the most common type of braid: three pieces of hair woven together to create a polished look. You can begin at the base of the neck with three even sections. Then, just cross the left portion over the middle followed by the right. Repeat these steps until you get to the end of the hair. For a more modern take on the standard braid, gently tug on the braid in different sections to create a messy bohemian look.
3) Mermaid Beauty- The Fishtail Braid
The fishtail braid is very cool and one of the easier braids to do. It is done in the same method as the English braid. However, very small sections must be used as they are woven together. Many people pull their hair into a ponytail before the begin to create a solid base for the braid.
4) Remain Neutral- The Swiss Briad
In order to achieve this look, you will need long hair that can be piled on top of your hair. First, you will need to braid two even pigtails. Then, take the braids and cross them around the head until they reach around the towards the crown. After, secure the braids with bobby pins or pretty clips for an elegant summer look.
If you are looking to start a career in hair braiding check out our list of schools here!