Easy to Keep and Maintain: Stylish Braids and Cornrows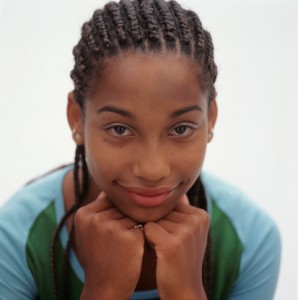 Braids and cornrows are easily some of the most popular ways for African woman to wear their hair. They require little maintenance and they offer a variety of versatility to a woman's look. Braids also allow the hair to recover from rigorous products and chemicals in order to keep in silky and manageable. Both cornrows and braids are quite simple to do. Braids feature taking three sections of the hair and laying one on top of the other until the braid reaches its end. Cornrows are more complex because they braided tightly into the crown of the head to create a variety of patterns or sections. The following list represents the most common braids and cornrows to help you decide which look will work best for you.
1) Straight Braid
This braid is also known as the Bob Marley. It works great on thick and unruly hair because of the texture. There are many ways to do this braid such as creating many thick braids starting at the crown. You can also put in micro braids that look more like locks of hair then braids themselves.
2) Ghana Weaving
These braids are also ideal for coarse hair because these are very tight braids that will not damage the hair. Synthetic hair is often used with this braid in order to add more personality to the look.
3) Pick and Drop Braids
This intricate style can take many hours to finish. However, it is one braid that lasts a much longer time compared to other styles. This is one of the most popular looks because it is comfortable and durable.
4) Unisex Braids
Kinky braids are ideal for both men and women. They are made with original kinky braids or other hair pieces. Cornrows are also a viable option for a classic look.
5) Basket Weaving
These braids have been made popular by Alicia Keys. There is no need for a hairpiece in these style, but they can be used.
In conclusion, any of these braids, weaves or cornrow styles will transform your look from boring to sassy. In order to prepare your hair, you will want to make sure that it has been washed with a deep conditioner. Also remember not to use a heavy hair cream because this will cause and itchy and flaky scalp. You should never leave a braid in for more then two months. Any longer then this will cause the hair to break. At night, you should wrap a satin scarf around your head to avoid any frizziness.
Most hair schools will give you training in hair braiding. Go here to find out how to get started in hair school.
Last updated by Heather Bashaw at .
Tags: braiding hair, hair braid schools, hair braiders, hair braids