Friday, November 11th, 2011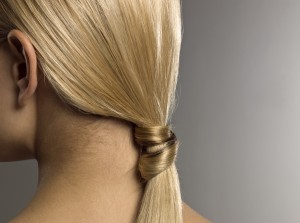 This spring, make sure your hair is on-trend with some of the most stylish and easy-to-wear hairstyles for 2012. As winter fades, the spring will usher in a return to lady-like perfection with sleek ponytails, elegant updos and soft waves. Another big trend for spring are interesting hair accessories like feathers, metallic cording and natural stones. These fun and exciting accessories pair nicely with messy buns, intricate braids and complicated twists, which will also be a staple this spring.
Ponytails
One of the most elegant hairstyle trends for Spring 2012 are sleek ponytails. At the Mercedes-Benz Fashion Week this fall, designers from New York to Milan showcased models wearing a variety of sleek and straight ponytails. One of the most popular looks on the runways were low ponytails that were secured toward the nape of the neck. Another popular variation of this hairstyle trend was the three-part ponytail, which features a series of ponytails that are connected down the middle of the head similar to a French braid. If straight and sleek is not your style, you may want to consider a voluminous ponytail of curls or waves.
Elegant Updos
Dress up your ponytail with a sophisticated bun or updo. This romantic hairstyle trend can be achieved a number of different ways. Try looping your hair into a messy bun or opt for a more structured chignon or French roll design. Either way, your tresses will be on-trend. Add emphasis with a series of herringbone braids or loose twists. Give your simple ponytail a little extra oomph with statement accessories and embellishments. Secure your ponytail with interesting hair ties such as a leather band or flat barrette. Or, make your upswept style stand out with pearl-tipped hairpins or soft feathers.
Loose Waves and Voluminous Hair
Loose textured tresses are a classic look that never seems to go out of style. The spring breeze will help to showcase loose curls and full body waves, which will also be a popular trend as the weather warms. To achieve this carefree look, before you go to bed, simply part your hair into two sections and braid each section into loose braids. When you wake up, release the braids to reveal flowing, wavy hair. In addition to loose waves, another big hair trend for spring are voluminous, bouncy blowouts reminiscent of the 1960s and 70s.
Wet Hair
In direct opposition to the full hair trend, the wet and wild look will also return with a vengeance. While this look may not be suitable for the office, it's the perfect look for the woman who is constantly on the go. To create the look, use a combination of mousse and high-gloss finishes. The look can also be achieved with glossing creams or serums.