Monday, February 13th, 2012
The great thing about the beauty and fashion industry is that new voices are always rising and making an impact. One of those voices is Grace Cascarilla, who's using her artistic talents and passion for creating to rise above some of the tough challenges life has dealt her.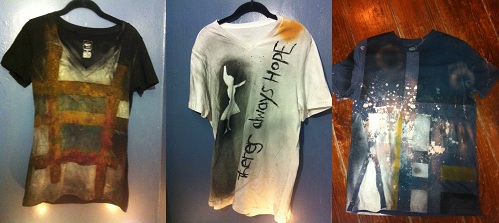 Tell me a little about yourself. How old are you? Where are you from?
I grew up on the west side of Cleveland in a suburb called Lakewood, Ohio. Lots of Irish Catholics and Italians. I come from an Italian and Lebanese family of many artists.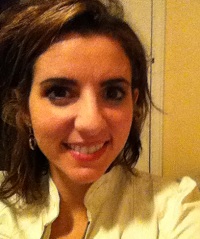 How did you get started designing these shirts?
I began making these shirts in April of 2011. The T-shirt is by far the most worn piece of clothing – everyone owns one, and it can be worn dressy or even to bed. I came up with this idea because I have been poor for a long time, and I needed to have clothes. So I decided a girl must be stylish at all times, especially in a situation like mine where I'm working toward these great life goals. The T-shirt is a simple piece of cotton that gets worn and worn and brings warmth to the heart.
Tell me about your process. Where do your ideas/inspiration come from? How do you go about making the shirt once you have an idea? What materials do you use?
My process is a sitting artist. I think, I wait, and then I try to find a way to touch memories and moments together. Sometimes I see things that strike a chord, and I carry them around for what seems like forever before I can connect them and translate them into my designs.
I chose my materials based on what best works with the sound and spark that I'm trying to capture. I use fabric paints, all permanent, safe and washable, although I tell my clients to wash less often. I work on T-shirts that are 100% cotton, preferably with a little bit of stretch, though. Sizes come in Men's and Women's: S, M, L, XL. I use a few different base colors: medium heather grey, charcoal grey and sky blue.
What is your advice to others who may have dreams like yours?
You can go anywhere and be anything. I believe everyone has dreams, and I believe that my sharing my spark demonstrates that they can do what they wish.
When I first contacted you, you mentioned the struggles and losses that you've experienced. Would you mind elaborating on that?
I have had a 10-year-long battle with massive depression and anxiety. I have had struggles with dyslexia and other disabilities that have prohibited me from living a happy life. Unfortunately, it has stopped me from many things that come more effortlessly to others, but I will not throw in the towel. I think everyone understands the need for love and fair chances. My family doesn't live close by, so that makes it difficult – I really miss them and I wish they were closer. It has been an uphill battle. I chose to use clothing as a creative method to see myself through better glasses, so basically I designed these shirts to know a greater, better force than myself.
What's your goal for your fashion design? Where would you like this to take you? Where do you see it developing in the future?
There is nothing I want more than for me to be a fashion designer. I would like to have a runway line in the coming years. But beyond that, a simpler goal of mine is just to have a peaceful life. I find happiness writing my voice in these colors that are brilliantly laid in my tee shirts.
How can people purchase your designs? Where can they go?
I'm very excited to announce that Halls at the Country Club Plaza will be selling my shirts beginning in May! You may also order from me by emailing me at Grace Ma Cascarilla at yahoo dot com or visiting my blog: Effusion Fashion. I do set up meetings, so please feel free to contact me with any interest or questions.