Wednesday, December 21st, 2011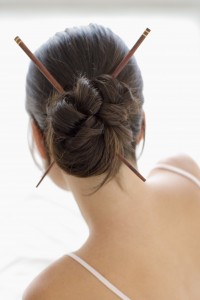 Not only are spring runways the go-to place for cutting-edge fashion and exciting designs, they are also a great resource for the latest spring 2012 hair trends. Designers are forecasting a mix of sleek, smooth and textured styles. With an emphasis on cool, feminine design, designers have also opted for long curls as well as more elaborate upswept styles featuring twists, braids and buns.
Hairstyle Trends
Femininity has made a return this spring as designers showcased a variety of soft, feminine upswept styles as well as edgier variations of classic styles like the French rolls and chignons. Many of these upswept styles featured soft accents like loose twists and braids. Braids and twists were also showcased, with designers favoring models wearing French and herringbone braids. Runways from New York to Milan showcased sleek ponytails that were secured to the base of the neck. Many times these ponytails were adorned with leather, feather and other bejeweled hair accessories. Big volume and textured hairstyles also found their place on the runways in the form of youthful waves and windblown locks. Wet, tousled tresses also made their appearance to provide an edgy contrast to some of the more feminine clothing designs.
Hair Accessories
While sleek and voluminous hairstyles will remain popular this spring, perhaps the biggest 2012 hair trends are hair accessories. A number of stylish bows, ribbons and clips served as both function and fashion on the runways.
One of the most easy-to-wear trends are chopsticks/leather band barrettes. This simple accessory can jazz up a ponytail and provide a much needed emphasis on the simple style. Try finding a monogrammed leather barrette to personalize the accessory. Chopsticks/leather band barrettes are also the perfect way to showcase a tight bun or chignon, which are one of the hottest 2012 runaway hair trends.
If you are looking for a conversation piece at your next cocktail party, accessorize with a hat. Since some hats can look a bit dramatic, in order to avoid looking like Lady Gaga, opt for a small pill-box hat or fascinator style, which are less noticeable but equally attractive hat options. If you like the idea of a hat but are looking for something a little less intimidating, opt for a headband adorned with a large flower blossom or corsage hair clip.
If you are looking for a super simple and classic option for holiday events and soirées, accent your hair with a velvet hair accessory such as a ribbon or headband. Try a more dramatic variation of this style by braiding a thin velvet ribbon into a French or herringbone braid. Or, wear your hair down in soft, voluminous curls securing them in place with a velvet headband. Velvet headbands can also complement upswept styles by helping to hold them in place.
Designers used a number of hair clips, barrettes and cording to support and secure elaborate updos and to help hold twisted styles in place. Plastic hair clips can provide a pop of color, while metallic and vintage-inspired clips added a bit of elegance and sophisticated cool. Gem clips and other crystal-adorned clips were also used throughout several fashion shows as a way to incorporate jewelry beyond the basic necklace.
On the other end of the spectrum, designers traded in lady-like sophistication for an edgier approach. Sleek ponytails secured in place by leather accents were an uber-popular runway trend, while ponytails, hats, headband and upswept styles adorned with feathers were also a catwalk-worthy.