D.I.Y. Disasters: Haircut Horror Stories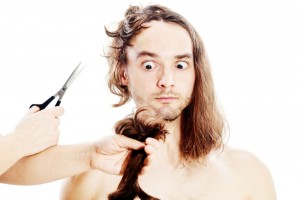 There are countless reasons cosmetology professionals attend beauty school to learn their trade – cutting, coloring and styling hair isn't something that everyone can do. Well, at least … isn't something that everyone should do. So here are five more great reasons to see a professional.
My own experience with self-styling started early. When I was little, my mom used to trim my bangs, and got the blunt, straight-across look by pulling a piece of Scotch tape across my fringe and then cutting under that. Seemed easy enough. Until I tried it myself, and ended up with at least an inch difference in length from the left to right side of my forehead. I remember my mom hiding a laugh behind her hand when I begged her not to tell Dad, and she replied, "Oh honey, I don't think we're going to have to!"
I also used to cut my own hair in college, when I was broke. I tried to fool myself into thinking it looked halfway decent, but I'm pretty sure that was the reason why every day of the week was a bad hair day and I wore ponytails for four years straight.
Thankfully, I'm not the only one. Some other misguided wannabe amateur hairstylists have provided their own hair horror stories here:
"Oh my, I am the hair disaster queen! I let my dad cut my hair in the 8th grade. He cut it way too short and uneven. I cried. The very next day was our holiday play and there was not enough time to go somewhere to get it fixed so I looked like an idiot! I also tried to touch up my roots once with a drugstore hair color kit and they turned bright orange. I called around and found a salon that could fix it the next afternoon, but I had to come to work in the morning with orange hair. I wore a hat. I had only worked here for a few months at the time and even with the hat I was super embarrassed. It has been a long road, but I have finally learned to leave my hair in the hands of professionals!" -Angie
"Sometimes, when I am between haircuts, I'll do a little styling to delay paying the 15 bucks on a haircut for another week or so. Using what scissors happen to be in the kitchen junk drawer, I stand on my tippy-toes – like it helps – in the bathroom mirror and cut around my ears, thin out my sideburns, trim the bangs, and try my best to angle the blades to fade my hair on the sides. This means I do nothing to the back, which results in a strange effect in which I look relatively well-groomed straight on … for a few seconds. But if you spend any time looking at me, you can see the back come hulking around. I would compare this look to a batting helmet I wore in little league – minimalistic in front with excessive padding in the back." -Kevin
"When I was probably 13 or 14 I used that Sun-In stuff when I was at the lake. I didn't think it was doing anything, so I kept spraying on more and more. I had used the whole bottle before I realized that my hair wasn't turning platinum – it was turning orange." -Lacey
"I tried to color my hair once with one of those box dyes. I went ahead and got the premium kind that included do-your-own highlights. Yeah, that was a bad idea. I freaked out halfway through letting the highlights sit and washed it all out. So first off, the color turned out dark red instead of light brown and I had these blonde patches were the color took. I looked like a sunburned leopard… or something like that. Red hair plus blonde spots equals not good." -Chris
So what about you? Have you ever tried to color or cut your hair and ended up horrified by the results? Share your stories below – we'll commiserate. And next time? Make sure to go to a licensed hairstylist who has legit training from a cosmetology school, eh?
Last updated by admin at .
Tags: bad hair day, beauty career, Beauty School General, cosmetology classes, cosmetology school, hair, hair care, hair design school, hair dos, hair school, hair trends, hairstylist