Wednesday, July 21st, 2010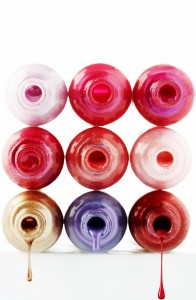 If you are a nail technician or even polish your own nails at home, then you've experienced the awful nail polish smell that invades the room as soon as the cap is twisted free from the bottle. Now, imagine giving manicures and pedicures for eight hours straight unable to leave the room! For many nail technicians, dizzy spells and significant health concerns result from the daily intake.
"About 50 percent of nail technicians are reporting that they're experiencing headaches, skin irritations, all types of irritations after they've begun working in this workforce," said researcher Thu Quach with the Cancer Prevention Institute of California.
For California nail technicians, these health concerns have been taken into consideration. A toxic-free nail polish was introduced to San Francisco nail technicians during a free manicure kickoff campaign to encourage others that safe nail products will be better for all. Nail polish typically contains three hazardous chemicals known as the Toxic Trio. These chemicals, dibutyl phthalate, formaldehyde and toluene, are absent from the polish. To go along with this, a new ordinance was also introduced in San Francisco.
"It will be the first in the nation and it will recognize nail salons that use toxic trio free products," said Julia Liou with the California Healthy Nail Salon Collaborative and Asian Health Services.
If the ordinance goes through, San Francisco nail technicians and salons that use these safer non-toxic products will be publicly recognized through the use of signage in the salon's window.
We shouldn't have to risk our health or others health in order to feel pretty!