Tuesday, December 1st, 2009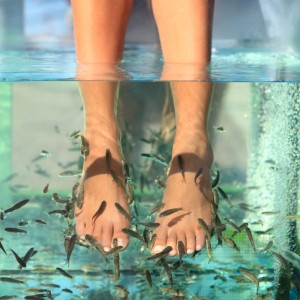 About a year ago, there was a new trend hitting the nail salon circuit – but now, it might be in hot water: fish pedicures.
A salon in Gilbert, Arizona, which is a suburb of Phoenix, is suing the Arizona State Board of Cosmetology for overstepping its legal authority to stop fish pedicures from being offered at area salons. The board has shut down a Fish Spa where small Garra Rufa fish, or small carp, eat away dead skin from the bottom of feet.
The board claims that when exfoliation is being administrated, it's falls under the board's rules and regulations, which essentially is what the fish do: exfoliate feet.
The lawsuit states that the salon acknowledges that the board is entitled to regulate pedicures. But it specifically argues that having fish eat away the dead skin on a patron's feet is not a pedicure and, therefore, outside the board's jurisdiction.
The board claims that since the fish cannot be properly stored and sanitized, they are a health code violation. Is this going to be the new trend following the fish pedicure around? There are several states and cities that allow fish pedicures but since this is a new area of beauty treatments, it's difficult to tell whether other cosmetology boards will follow suit.
Tell us what you think! Are fish really performing pedicures or just exfoliation? Should the beauty service fall under the rules and regulations of the board?