Friday, December 16th, 2011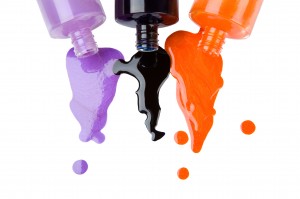 As the year comes to an end, most of us are wondering how we will transition the favorite trends of 2011 into something new for 2012. This year reintroduced the public to edgier fashions, eclectic hairstyling options, and both innovative and creative beauty trends. Women enjoyed a return to vintage hair and beauty trends – from 1930-inspired buns and twists to edgier 1980-esque fashions like angular hair cuts, bright lipsticks and bold nail designs. 2011 brought on new nail trends like ombre nail art and textured polishes, as well as embellished nail design. If you're wondering which of this year's best beauty trends will get left behind and which ones will carry over to the New Year, check out our 2011 beauty recap and 2012 style outlook.
From the Salon to the Kitchen Table
One trend that is predicted to continue into 2012 is the recession's impact on personal spending. As most consumers have been forced into conservative spending habits, fashionistas have taken creative measures to maintain their skin care and beauty regimens. Rather than spending cold hard cash on medi/pedi treatments at the salon, women have taken on the challenge of maintaining their nails at home – and they're loving the results! A recent article in Women's Wear Daily reported nail polish sales were up 59 percent and were one of the year's best-selling beauty products.
And women are keeping it professional at home, topping off their DIY manicures with top and base coats. The Women's Wear Daily piece reports that the sales of colored lacquer, basecoats and topcoats were up 50 percent this year.
2011 nail design trends like crackle topcoats, nail decals and magnetic nail polish have allowed women to become more creative with their manicures. Some artistically inclined women are even taking on DIY nail design. Even considering consumer's frugal spending, beauty industry reports show that women still see nail polish as a luxury – especially considering the wide variety of celebrity-indorsed nail polish products. Within the last year, celebrities such as Lady Gaga, Nicki Minaj and even the Kardashian Klan have launched their own branded nail polishes.
New trends in fashion have re-introduced bold, bright colors onto the fashion and beauty scene and woman have not been shy about adopting these styles and colors in their repertoire. Both pre-teens and career professionals have been seen sporting the new neutrals in nail color: navy and royal blues, ombre design and gray. Another major trend expected to carry over from 2011 are Shellac techniques. These super durable topcoats were not only a 2011 trend, but are also a functional necessity for women on the go. Shellac techniques will surely be used in 2012 and will be especially needed for nail art such as ombre, striped or hand-painted designs.
While it is difficult to forecast what will be popular in the upcoming year, beauty insiders predict that women will continue to invest in life's small luxuries like nail art and nail design trend in 2012 to give a fresh boost to their look and make them feel fabulous and confident.