Tuesday, January 10th, 2012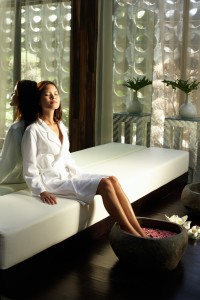 Innovative new treatments are all the rage for this year's spa connoisseurs. SpaFinder's Spa Trend Report shares that though the economic climate has made experimental treatments a bit of a risk, spa and salon managers have embraced the challenge with unique ideas that have spa-goers coming back for more.
Pampering the Peds
As more and more people spend increasing amounts of time standing on their feet, spas are beginning to address the problems of foot pain, swelling and underdeveloped muscles. Not longer merely beautifying feet with fun and relaxing pedicures, spas and salons have stepped it up a notch. Troubled tootsies can now receive some TLC with a more holistic and healthy approach.
Some spas offer gait assessment to determine how everyday walking might be causing foot pain and discomfort. Suggestions are then made to improve a client's stride. Pedicures are given in anti-gravity chairs to offer relief and promote lymphatic flow. Several spas have started offering boot camps that improve posture and emphasize strengthening underused foot muscles.
Chilling Effects
Taking a lesson from the cooling effects of cucumbers, cold treatments, such as icy massages, snow showers and ice chambers, are used to enhance blood circulation, as well as reduce inflammation. Alternating between hot spots, including steam rooms, spas and saunas, has been shown to help with both joint and muscle pain.
Lasting Results
Take the spa benefits home with a personal coach. Health, beauty and wellness coaches are available post-treatment to help clients stay on track with their goals. Everything from sleep to eyebrow coaching is offered via phone calls, text messages, emails or even Skype.
Living in Luxury
For pampering that feels good all over, clients can now opt for packages that include regular spa treatments combined with healthy wining and dining. From high-quality wines bursting with antioxidants to locally grown, organic produce in some locations, spa-goers may be required to cook their own delicious dishes. Other spas serve meals during the pampering process. Biggest challenge: not chipping nail polish while noshing on tasty treats.
Multisensory Experiences
Coming at pampering through a more multidimensional approach, various treatments are being infused with lights, sounds, colors, vibration, and music to engage all five senses. The idea is to correct imbalances and restore proper energy flow. Many of the sessions have Eastern elements of holistic healing woven throughout. Look for these treatments on massage tables, lounge chairs, hot tubs, saunas and steam capsules.
Beauty Bling
Glitz and glamour are in, whether it is via nails adorned with crystals or hair extensions woven with feathers. Flashy fashions deliver the red carpet look through a wide variety of creative elements.
Beauty On-the-Go
For the time-crunched, walk-in makeovers, blow-dry bars and 10-minute mani/pedis provide fast and affordable beauty blitzes in travel hubs, including airports and train stations.
Fun for the Whole Family
No longer targeted at ladies of a certain age, spas are increasingly reaching out to the whole family. Kid-friendly options are growing in popularity, including everything from Disney princess themes to baby massage classes. Expect to see more spa birthday party offerings alongside the bride-to-be pampering packages.
Amusing Beauty
Everything from amusement parks to luxury getaways is popping up in this year's spa offerings. Innovation is the name of the game.
Just like in any business, spa and salon managers have to innovate in order to keep up with the times, and the new spa treatments we're watching develop for 2012 prove to us that it's an industry that knows how to adapt to demand.