DIY Beauty 101: Get Pretty on the Cheap!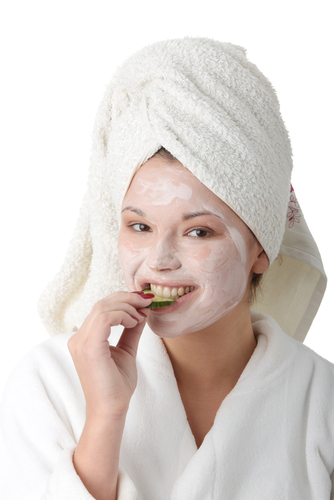 DIY-beauty can be a great way to save some dough. But if you're thinking you have to resort to crazy (and smelly…) tactics involving mayonnaise, egg yolks or other odd kitchen items, think again!
Here are a few affordable (even totally free in some cases) ways to look and feel your very best with the help of common household items.
Great Hair
1.       Pump up the volume
Try adding mousse into your hairstyling routine. It brings more bang for the buck than some other hair-pumping products.
Another (totally free!) way to add some lift to your 'do is by blow-drying your hair upside down. Flip your hair over and dry the hair away from the scalp. When it's barely damp, flip it back and continue styling.
2.       Bring out the shine
Add a weekly hot-oil treatment to your beauty regimen. Sound expensive? It doesn't have to be! Pick up some jojoba oil (you can find it at natural food stores for around $10) and substitute this for pricier hair-repair products.  Just spread the oil generously through dry hair, pop on a plastic shower cap, and cover your head with a hot towel for about a half-hour. When time's up, rinse your hair with cold water to seal in the moisture. Then, head out and show off those shiny tresses!
Glowing Skin
1.       Erase the redness
To reduce redness and soothe irritated skin, all it takes is a quick trip to the fridge. When you soak a washcloth in cold milk and place the washcloth over your face for about 10 minutes, the proteins, fat, amino acids and vitamin A found in milk can rejuvenate your skin and help it look soft and glowing.
2.       Banish puffy eyes
The caffeine found in tea bags can help tired-looking eyes appear brighter and more awake. By shrinking the underlying dark blood vessels that create puffiness around the eyes, the caffeine can help your eyes look bright once again. Find two tea bags and soak them in hot water for about a minute. Then, dunk them in ice water for a few seconds. Lie down and apply the tea bags to your eyes for about 15 minutes while you take a breather.
Dazzling Smile
1.       Mix your own smile-whitener by creating a homemade paste of baking soda and water. By brushing with this paste a few times a month, you can whiten your teeth by as much as one or two shades.
2.       Keep your teeth white between brushings by treating new stains before they set in. When drinking red wine, choose some crunchy raw vegetables to accompany your drink. By chewing up the veggies, you can help rub away any new stains.
It's time to go forth and look beautiful! All in the comfort of your own home, no less. Have some tips to add to our list? We want to hear 'em!
Last updated by admin at .
Tags: beauty, Beauty Products, skin care