Find Nail Technician Schools
Why Consider a Nail Technician School?
If you have a passion for manicures, pedicures, beautiful nails and the art of beautifying hands and feet - a nail technician career may be perfect for you. And choosing one of the many reputable schools of nail technology to get your beauty education is the first step! To become a manicurist is a unique and ambitious career path, and it calls for passionate individuals who are interested in creative, challenging and fun careers in beauty. Use the search box below to find nail schools near you and get started on your beauty education.
How BeautySchool.com Furthers Your Nail Career
BeautySchool.com offers students one of the largest online directories to find, locate and compare nail programs in your area. Students and manicurists alike use our information, tips and resources throughout every phase of their career development. With us, you can find nail training to teach you all the skills and knowledge you need to sit for and pass the board exams and get licensed. To get started, simply perform a search or choose a state from the list at the bottom of this page to see your options. Be sure to compare the benefits of several schools and choose the one that best fits you. Ask about their scheduling options, tuition and financial aid, student salon, student-to-teacher ratio and more to make an educated decision. If you have any questions about your school choices, don't hesitate to reach out to us. We're here to help, and we love hearing from prospective students who are inspired by making others look and feel their best!
What You Learn in Nail Technician Schools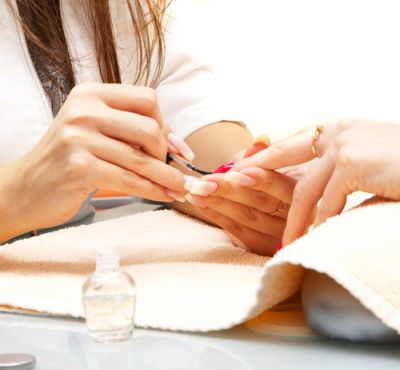 Nail technician schools teach a wide variety of nail skills and services, such as shaping and filing nails, coloring and painting nails, applying acrylics and gels, manicures, pedicures and more. Many trained, professional nail techs are also experienced in performing hand, calf and foot massages for clientele. Perhaps the most fun and creative part of being a nail tech is doing custom nail design and nail art. Of course, a professional nail tech is also expected to be knowledgeable about salon safety and sanitation. The length of a nail technology program depends on your state's hour requirements, so make sure to look up your state nail license requirements. To ensure you are getting the beauty education that matches your needs, request more information from several schools of nail technology and ask them about their programs before enrolling. To find out more about what you learn in nail technician school, check out the nail technology program training guide.
Nail Technician Jobs and Careers
There are numerous nail technician jobs and careers to choose from. As you pursue your education at one of the many reputable nail schools available in your state, you may find that you are especially great at a particular set of nail skills. At this point you may decide to specialize in a niche nail service such as acrylics, wedding nails, manicures or pedicures - though most nail technicians should excel at all of these skills. Nail techs usually find jobs at salons and spas, nail salons, resorts, malls or shopping centers.
Find Nail Technology
Schools Near You
Or Choose a State for a List of Schools