Find and Compare Cosmetology Schools
Why Consider Cosmetology School?
You love doing other people's hair – your sister, your daughter, your best friend. You have a great eye for color and cut and style. You recognize that beauty is individual and like to find ways to personalize it to make each person look their absolute best. You would love to have a job where you could have the satisfaction of helping others look and feel amazing every day.

These are traits that could mean a cosmetology career might be perfect for you. Not some boring desk job, but something fulfilling and creative and stable. Did you know that cosmetologists with the right training can expect to see job opportunities grow 14% through 2020 according to the Bureau of Labor Statistics? And the first step in getting the right training is to seek out beauty education and training from one of the hundreds of cosmetology schools on our site.

Careers in cosmetology aren't for just anybody – they're for people who are ambitious about getting what they want, enjoy being creative and hands-on, and are passionate about making style choices that help others look and feel their best. Find cosmetology schools near you and get started on the path toward a beauty career you can be proud of.
How BeautySchool.com Helps You Further Your Cosmetology Career
BeautySchool.com offers several benefits for future students who want to start working in the cosmetology business. If you want to know your school options without hunting and clicking through several sites, you can request information from numerous schools in your area all in one place. Plus, BeautySchool.com is a resource that cosmetology professionals can use throughout their education. Even those who are working in the industry already refer to us to stay current with the latest news and information relevant to licensing, careers and cosmetology continuing education. Take a moment to locate schools in your area and learn your options, then request information from the schools that interest you so you can compare the benefits of each and choose the right cosmetology college for you.
What You Learn in Cosmetology Schools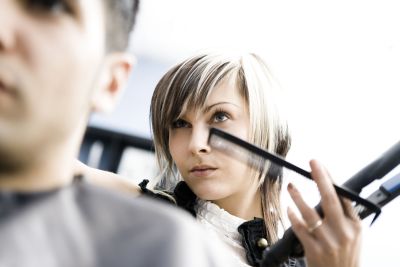 Cosmetology schools are often as different as the people who run them. Though the curriculum they must teach is determined by the state, each has a unique approach to delivering the material. Be sure to check out their student salon, ask about student-to-teacher ratio and tour the school to get a feel for whether it's the right fit for you. Some cosmetology schools specialize in teaching professional hair care and styling; others offer comprehensive programs, adding in courses on nail technology, esthetics and skin care, makeup artistry, etc.
You can specialize in one niche of these beauty services, or take a comprehensive cosmetology program that encompasses hair, skin, makeup and nails. Most cosmetology programs combine in-class lectures and textbook learning with hands-on experience in supervised student salons so you're applying what you learn right away. It all varies from school to school and from state to state, which means you have tons of options when it comes to finding the cosmetology school or beauty program that works best for you and how you learn.
Before you enroll, check out your state cosmetology license requirements so you know the hour requirements you will need to meet in order to sit for the licensing exams. Then request more information from the cosmetology schools that interest you and talk to them about their programs – what they offer, what the classes are like, what they do to prepare you for licensing exams, and so on. A little research can go a long way toward ensuring you find the right cosmetology college. Read more about what you can learn in a school of cosmetology on our cosmetology program training guide page.
Specializing Your Career as a Cosmetologist
The great thing about the beauty industry is that there are a ton of cosmetologist jobs and careers to choose from. It's not a one-size-fits-all field – you can use the skills you learn at any one of the hundreds of cosmetology schools on this site into a unique and creative career helping people look amazing.

You can work in salons or start your own business, grab a job in a spa or in the film or theater arena, aim for the world of high fashion or seek out opportunities down home. You can also specialize in many of the niche cosmetology services, like skin care, nail care, make up artistry, massage therapy, barbering, laser hair technology and electrolysis, and more. The only real limits are your passion and willingness to learn.
Find Cosmetology
Schools Near You
BeautySchool.com offers you the ability to search for cosmetology schools in your area to find a quality cosmetology institution that fits your needs. Upon completing your cosmetology program, you can obtain your state cosmetology license and begin a rewarding beauty career.