Beauty Schools, School of Beauty Information
Why Consider Beauty School?
If you love to work with people and make others feel beautiful through creative outlets – a beauty career may be perfect for you. And choosing one of the many reputable beauty schools to get your education is the first step! Attending beauty school is an ambitious career path, and it definitely calls for passionate individuals who are interested in challenging yet fulfilling careers in beauty. Find beauty schools near you to get started on your beauty education.
How BeautySchool.com Helps You Further Your Beauty Career
BeautySchool.com offers several benefits for prospective students who want to start a career in the beauty industry. If you want to know your options without searching multiple sites, you can request information from all the schools in your area all in one place. Plus, BeautySchool.com is a resource that beauty professionals can use throughout their education. Even those who are working in the industry already refer to us to stay current with the latest news and information relevant to licensing and careers. Take a moment to locate schools in your area and learn your options, then request information about the programs that interest you so you can compare the benefits of each and choose the right beauty college for you.
What You Learn in Beauty Schools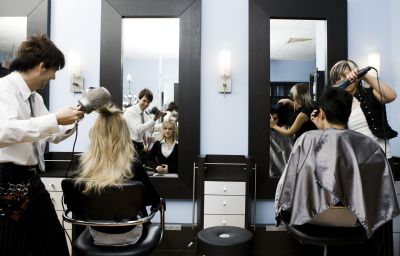 Beauty schools teach a variety of professional hair, nail, makeup, esthetics and skin care skills to perform on your future clientele. If you attend a school of beauty, you will learn all about these topics through in-class lectures, beauty textbooks, and hands-on training in a student beauty salon. While a comprehensive beauty training program usually encompasses hairstyling, nail tech, makeup artistry, and skin care and esthetics, sometimes the programs vary from school to school or state to state. Look up your state cosmetology license requirements for your state's unique hour requirements. To ensure you are getting the beauty education that matches your needs, request more information from several beauty schools and ask them about their programs before enrolling. To find out more about what you will learn in beauty school, check out the beauty program training guide.
Specializing Within the Beauty Industry
There are numerous beauty jobs and careers to choose from. As you pursue your education at one of the many reputable beauty schools available, you may find that you are especially great at a specific set of beauty skills. At this point you may decide to specialize in a niche beauty service in skin, hair or nails, like specializing in organic facials or becoming a certified hair colorist, for example - the possibilities are virtually endless. Becoming a versatile all-around beautician or choosing a specialty area within the beauty field is up to you, and many beauty students choose to concentrate their studies in areas such as high-end hair design or luxury manicures/pedicures. Some beauty schools may also offer shorter programs for specific areas – such as an esthetics and skin care program, or nail technician program, which would require fewer hours than a comprehensive cosmetology program. There are tons of options for both broad and specific career paths in the beauty industry!
BeautySchool.com offers you the ability to search for beauty colleges in your area to find a quality cosmetology institution that fits your needs. Upon completing your cosmetology program, you can obtain your state cosmetology license and begin your beauty career.