Barber School and Barber Schools Info
Why Consider a Barber School?
If you have a knack or passion for cutting, coloring and styling men's hair – a career in barbering and men's hairstyling may be perfect for you! And choosing one of the many reputable barber schools to get your education about styling men's hair is the first step down that path. Becoming a barber is an ambitious, respectable career choice, and it calls for talented, driven individuals who are interested in fulfilling, challenging careers in men's grooming. Find a barber school near you to get started on your education in cosmetology for men's appearance services.
How BeautySchool.com Can Help You Further Your Barber Career
BeautySchool.com offers several benefits for potential students who want to start a career in barbering. If you want to know what your training options are without searching countless websites, you can request information from multiple schools right here in one place. Plus, BeautySchool.com is a valuable resource that barbers rely on throughout their education and careers. Even those who are already working in the business refer to us for the latest news and information that's relevant to their careers, and for continuing education and license renewal information. Use the search tool above to find barber schools in your area and compare your options. Then request information about the programs that interest you so you can compare and contrast the benefits to find the right one for you.
What You Learn in Barber Schools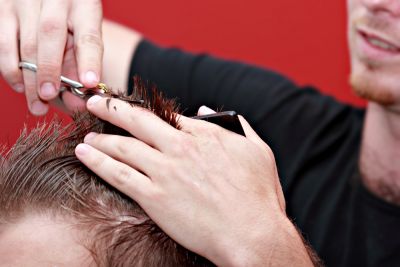 In barber school you will learn a long list of traditional and mdoern barbering skills to get ahead in the male grooming industry. You will learn the basics and advanced techniques in cutting, trimming, coloring and styling men's hair. You will also learn the art of the shave to perform facial shaving services and beard maintenance. A school of barbering will teach you about hairstyling, shaving, scalp treatments and possibly even fitting and adjusting wigs or artificial hair. Many barber schools will also teach you important skills in business management and marketing yourself as a barber, because many graduates of barber coleges go on to open their own independent barbershops. Of course, you will also learn about important sanitation and safety practices in barber school to keep a safe, clean shop for your clients. The length of a barbering program depends on how many hours your state requires to get licensed, so make sure to look up your state barber license requirements to determine how long barber school will be. To ensure you are getting the barbering education that matches your needs, request more information from the barber colleges and ask them about their programs before enrolling. To find out more about what you will learn in a barber school, check out this barbering program training guide.
Barbering Jobs and Careers
There are numerous barber jobs and careers to choose from. As you pursue your education at one of the many reputable barber schools available, you may find that you are especially great at a particular set of men's appearance service skills. At this point you may decide to specialize in a niche barbering service such as luxury shaves, fades and braids, custom shave designs, and so on – though good professional barbers should be knowledgeable about all of these services. Many people passionate about men's hair care or the classic barbershop tradition can do well in a barbering career with hard work and dedication. Barbers usually find jobs at barbershops, hair salons, the military, in the entertainment business, and some have even been known to land jobs at resorts or on cruise ships! Entrepreneurship is especially common in the barbering industry, as many barbers decide to go into business for themselves and be their own bosses.
BeautySchool.com offers you the ability to search for barber schools in your area to find a quality barbering institution that fits your needs. Upon completing your barbering program, you can obtain your state barber's license and begin a rewarding men's grooming career in a timeless industry.