Friday, June 8th, 2012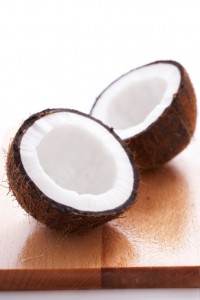 Summer 2012 is just around the corner, and it is time to get one's look up to date. With celebrities like Blake Lively embracing pastel colors, there is no better time to update the wardrobe. Other singers, like Ciara, are embracing dark roots and blonde ends, so it may also be time for you to update your hairstyle too. Get ready for Summer 2012 by adding these 10 hot trends to your look.
1. Dark Roots
Ciara was recently seen on a red carpet event donning dark roots and blonde extensions. The votes have been counted, and this is officially the hottest look of Summer 2012. Other celebrities like Drew Barrymore, Rihanna and Jennifer Aniston have also been spotted with dark roots on the red carpet.
2. Tangerine Lipstick
Tangerine lips are all the rage for this summer. This subtle look creates that effortless summer beauty that we all try to achieve for the summer.
3. Coconut Oil
Not only is this oil healthy for your skin, but is also helps it achieve a stunning glow. Coconut oil also smells amazing, and it helps keep skin moisturized and protected from the sun. Dab a little coconut oil all over your body before heading to the beach this summer.
4. Loose Braids
Look on Pinterest, and you will find hundreds of photos of loose braids. Loose braids give an effortless elegance to any look. Even if you are attending a cocktail party this summer, try wearing a loose braid to the event and notice the stares of envy surround you.
5. Painted Toes and Exfoliated Feet
All eyes will be on the feet this summer, since leather sandals are also a part of this summer's trends. There is no better reason to get a pedicure or exfoliation treatment than to get your feet ready for showing off some new sandals. Hot pink is also a popular color for toe nails in the upcoming fashion season.
6. Subtle Highlights
Gone are the days of bright blonde highlights. This summer, subtlety is key in achieving an elegant and refined look. Subtle highlights are the way to go for showing off one's bronzed skin.
7. Makeup Primer
Makeup primer is essential to use this summer because it will keep makeup from smearing on the skin. Makeup primer also helps make-up to stay put on oily skin.
8. Shimmer Gloss
A simple shimmer gloss will make lips look soft and pouty for the summer. The key motto in wearing makeup this summer is "less is more."
9. Aqua
Aqua is the "it girl" color of the moment. Try picking up an aqua romper or aqua dress to get in style.
10. Leather Satchels
Leather satchels look great with any outfit, and they can also be used in the fall or winter months.
These are the 10 hottest summer beauty trends that you should add to your look.