Wednesday, November 30th, 2011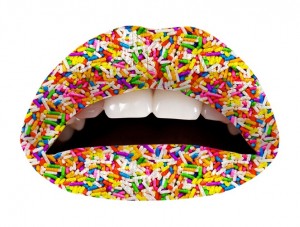 We love fun and funky new beauty ideas, so it's no surprise that we're fascinated by the outrageous and awesome Violent Lips, temporary lip tattoos that are growing in popularity. Kim Kardashian just posted a picture of her wearing them on her Celebuzz blog, and they're cropping up all over the entertainment scene on singers, actresses and models who all have a flair for wearing bold beauty and makeup trends.
Personally, we're all about a product that lets us experiment with no repercussions, which is exactly what Violent Lips offers. Pick out one of their wide variety of colors and patterns, put them on, and then dazzle people out on the town. They last 4-8 hours and can be removed simply by applying an oil-based makeup remover to your lips.
And with Violent Lips' selection, you can be as funky as you want. Go racy with red fishnets or leopard print. Go wild with cupcake sprinkles, stars or checkers. Or go fabulous with their Glitteratti collection, our personal favorites, especially with the upcoming holiday parties. Spakrle is a big makeup trend everywhere else on your face – why not your lips?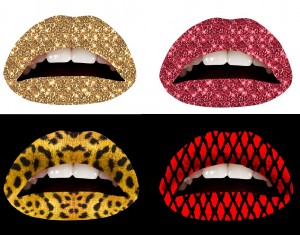 Kim Kardashian Photo via Celebuzz
You can get your hands on Violent Lips at Sephora or Ulta, or – better yet – you can just go straight to the source and order from their website. Bonus: They're offering a 20% off and free shipping coupon, plus they have a whole page of tips and tutorials to help you apply them. Sounds good to us!