Wednesday, September 28th, 2011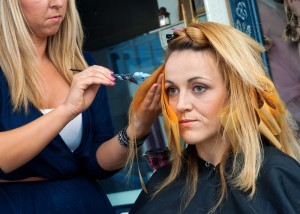 Streaking. What comes to mind? Well, you might want to change what you think about streaking because it has a whole new meaning.
No longer is streaking running naked through a public place. It's not even adding dyed or highlighted streaks to your hair. This month, it's about lining your hair with trendy colored tinsel to show your support for the National Breast Cancer Foundation.
Streaking with hair tinsel allows you to do what you normally do to your hair, including washing, drying and flat ironing up to 400 degrees. It just adds a subtle, colorful flair and pizzazz – not to mention it speaks volumes about you supporting a charity close to your heart.
The organization "Streak for Cancer" recently changed its name to "Streak for a Cause," so they could raise awareness and funds for even more charities of choice, though in October they will focus on the National Breast Cancer Foundation.
Salons who wish to participate can visit www.streakforcancer.org to register their stylists. If you would like to schedule an appointment to have your hair streaked with tinsel to support Streak for a Cause, visit www.streakforcancer.org and click "Register to Get Streaked." 100% of all pre-paid proceeds ($15 for 12 streaks) will go directly to Streaks for a Cause.