7 Hair Trends to Try in 2012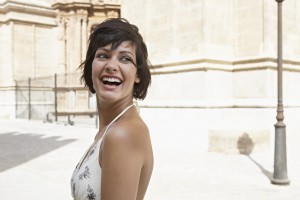 Like everything else, hairstyles change according to the times. For 2012, women are done with pale shades of blonde and platinum locks. Women are also done with clip-in extensions and bouncy curls (at least for awhile, anyway). If you want to follow the hot hair trends of 2012, here are some ideas to try:
The Bob Chignon
Rather than picking a chignon or a bob, you can combine the two looks – even if you don't have a bob. Basically, this style is a messy side bun combined with the rest of the hair folded under to create a bob. If you want the look without having to use bobby pins, try purchasing one of those bands specially designed to create faux bob hairstyles.
Highlights That Frame Your Face
Two-tone hair isn't totally out; however, a lot of women are changing up their dramatic ombre fade for something a bit more blended. Highlights that frame the face are definitely in this year, even if they're combined with darker roots.
Sleek Waves
Forget bouncy, bubbly curls and tight tendrils! This year is all about the straighter, sleeker waves. This look is quite simple to obtain. All you have to do is sleep with a few large braids in your hair, when your hair is still damp. When you take it out, you'll have straighter waves, and you can touch up any iffy section with a one-inch curling iron.
One-Day Hair Color
Who says you can't change your hair color just as much as you change your underwear? With one-day hair colors, you can have a different color for every day of the week. One day you might be a redhead for work and then go out the next night as a blonde. One-day dyes and highlights allow you to try out a look and wash it out if you're dissatisfied.
Layering a Bob
Long flowing layers have been in for a while, and it's become rather monotonous. That's why celebrities are turning to a bobbed hair cut with layers. This look is cute, sexy and trendy for 2012.
Tape Extensions
There's absolutely no need to spend hours having extensions sewed or glued in your hair, since this type of extension only requires two minutes of time per extension. Because of advancements in technology, talk to your hairstylist about tape extensions, which utilize medical-grade tape, rather than glue or clips. Unlike sewn or glued extensions, these come out easily with a special remover.
Warmer Hues
Pale blonde that looks almost white is a trend that's faded. In fact, it has faded into medium blonde shades with golden or strawberry undertones. Rather than blue-black hair, women are now choosing warmer brown shades with hints of honey-colored highlights. Less extremes, more natural.
What do you think? Who's taking up any of these 2012 hair trends?

Last updated by Becca at .
Tags: 2012 hair color trends, 2012 hair trends, Beauty Trends, Celebrity Trends, faux bob hairstyles, hair color trends, layered bob, one-day hair color