The Science of a Good Hair Day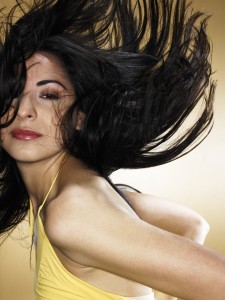 Good hair days have long been known to govern the emotions of angst-ridden teenagers as well as adults, but what really goes into the science of a good hair day? While it would be easy to dismiss a good hair day as something fleeting and superficial, it turns out that good hair may well go quite a bit deeper than that.
Science has long taught us that our physical appearance matters. Visible evidence of youth, cleanliness, and health signal fertility and vitality to our potential mates. Healthy, beautiful hair has always played an important role in the mating game. After all, where would Samson be were it not for his long locks, shorn prematurely, or the vixen Cleopatra without her lustrous black mane? Hair has undeniably been a crucial part of our physical appearance, so it's no wonder that it continues to be so today.
The health of a newborn is often judged by the thickness and luster of his or her hair. Women with shiny, vibrant hair are considered more sensual and attractive. As we age, our hair naturally thins and loses shine, and that hair loss is associated with a decrease of virility, fertility and health. Dull, thin hair is just not considered desirable or sexy.
A full head of shiny, healthy hair can also be aesthetically pleasing as it frames our faces. Studies show us that babies are naturally drawn to faces, and humans seek faces all around them. Hair is often a basic descriptive factor when we are describing ourselves or others, and taking care of it can be an essential part of taking care of ourselves.
When it comes right down to it, having healthy, shiny, beautiful hair can be tightly interwoven with our self-esteem. We can play with our hair, style it, cut it, dye it, and alter its texture to create a look we feel is more flattering to our overall appearance. Our hair can give us more confidence and provide us with a sense of control, even in the face of aging. Today's beauty products can even challenge the inevitable changes associated with aging, such as hair loss or graying, and we can fight back, maintaining thick, gorgeous hair well into our golden years.
What does a good hair day mean to you? While it may not necessarily be healthy to let a bad hair day ruin your entire outlook, it is perfectly fine and even biologically normal to have a little extra bounce in your step on good hair days. Now let your hair down, and strut your stuff. You know you look amazing.
Last updated by admin at .
Tags: good hair, good hair and fertility, good hair and health, good hair and virility, good hair days, science behind good hair day, what good hair signifies