The Spring/Summer Hair Trend of 2012 is Streaks of Color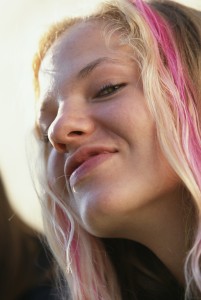 The fashionable hair trends for the spring and summer of 2012? Streaks of color throughout slightly tousled hair. The color of the streaks depends on the individual's overall hair color, but popular shades include peaches, light pinks, bright blondes and even some muted orange.
These streaks of color have been popular with celebrities for some time. It is now infiltrating into the fashion industry as demonstrated in Peter Som's most recent fashion show.
Colored streaks can be added to pencil straight hair or hair with wonderfully flowing waves. The addition of these highlights will give any hairstyle an edge. At Peter Som's show, the darker hair was enhanced with lighter color streaks, and the lighter hair was adorned with light pink and peach strands.
Amazingly, this fashion statement can be achieved without ever dying your hair. Colorful extensions are available that can be placed on one side of the front section of your hair. These extensions can be worn effortlessly with almost any hairstyle. However, hair that is a tad disheveled adds even more edge to this look.
Hair Chalking with Wax Pastels or Traditional Chalk Another way to obtain color streaks without the commitment is by chalking your hair. This is a relatively new technique, and it works very well. You can wet small sections of your hair or soak the colored piece of chalk you want to use. All you do is rub the chalk on the sections of hair that you want to streak. If you are using a traditional chalk, you need to apply hairspray prior to beginning this process. If using wax pastels, set it by using heat.
You have the option of just coloring your bangs or the tips of your hair. With very little effort, you can color your luscious locks from top to bottom.
The nice thing about these techniques is that they are not permanent. You can go crazy at your bachelorette party with rainbow streaks in your hair and still be the sophisticated bride with the up-do the next day!
Last updated by admin at .
Tags: 2012 hair trends, hair chalking, hair coloring, hair trends, highlighting your hair, highlights