Create an Angelic Look Using Braids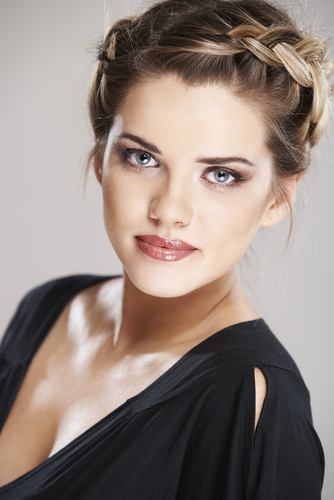 If you do not want to wear a set of wings, but you still want to look like an angel, the halo braid is a great way to go about it. This look gives you the appearance of being classic and sophisticated, while still giving you a youthful look. These braids are ideal for a night on the town or a day at the beach. Not only will you be sporting a do that looks great from every angle, but also you will be keeping up with some celebrities including Alicia Keys and Lea Michele.
Marcus Francis, who is a hairdresser, suggests starting out with a volumizer. This gives the hair a little extra thickness. Add a few spritzes of texturizer, so your hair will be easier to work with, and so it will not slip. You may want to have someone else complete this look for you, because doing it to yourself can be a little complicated. Make sure your hair is not wet. It will be nearly impossible to do a halo braid with wet hair. Try using a dry shampoo and then blow drying your hair.
Pull your locks up from your ears. Clip any hair back that you will not be working with immediately. Divide the hair into three different sections, just as you would a French braid. Start braiding across the top of your forehead. You can add additional pieces of hair that are underneath the braid, since they will help to secure your hair. Take some of the hair out of clip, and begin incorporating in with the already done section. Use bobby pins to secure your tresses in place. Continuing braiding until you reach the other side of your head where you began the braid. Ultimately, the hair should touch the beginning, and by using bobby pins, you should be able to clip the hair in place to create a seamless halo around your entire head. Now, all you have to do is add some hairspray!
You do not have to braid all your hair into the braid. You can choose to only do part of your hair and leave the rest in a loose bun. Or you could opt to hair only a headband and allow the rest of your hair to flow loosely.
Last updated by Becca at .
Tags: alicia keys, angelic braids, hair braiding