Wednesday, November 9th, 2011
This week is "National Non-Traditional Student Week." We took a look at the folks we've helped find beauty schools this year, and we found that the vast majority of our students are non-traditional students. So this week, we salute you, non-traditional cosmetology students!
What exactly is a non-traditional student? A non-traditional student may delay enrollment in their post-secondary school after graduating from high school, perhaps because the duties of parenthood or the need to have a full-time job had to come first. Or perhaps the student tried on a career that just wasn't right for them, and found cosmetology later. A non-traditional student may work full-time while enrolled in cosmetology school. Many non-traditional cosmetology students have children or other dependents, and many are also single parents.
When we assessed our beauty school students, we found that as many as 70% don't necessarily choose to go to cosmetology school right out of high school! 21- to 24-year-olds make up about a quarter of our students, and we even found that about 5% are Baby Boomers or older! It just goes to show that you're never too old to start beauty school.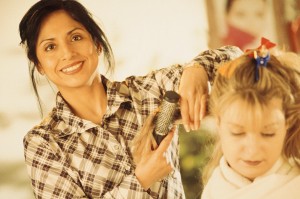 Here's a great quote from one of our cosmetology scholarship applicants that reflected the feelings of many of our students who are parents. "I am a mom of three and I have devoted my life to being here for my daughters. Now that they are getting older, I am ready to pursue my dreams. I have put it off for so long and I am finally ready to get started." Thank you, Yolanda B., for sharing your story with us!
Here's another from Ruth H. about how nothing else fit her. "It has always been a thought in the back of my mind, and I've tried out other career choices, and decided they really didn't fit me." But then she found cosmetology, and she's working on enrolling in beauty school now!
It takes a strong, smart, ambitious person to juggle the challenges of managing your life while also choosing to enroll in cosmetology school. We know you have families to support and jobs to hold while you go to beauty school. And for that, we salute you. We are so proud of all of you for taking that step to change your lives for the better, regardless of what path you take to get here. Kudos to all the non-traditional beauty students out there!