Tuesday, May 18th, 2010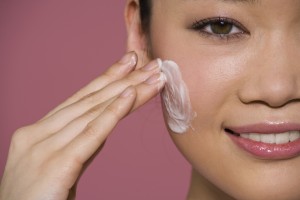 Western beauty ideals have undeniably influenced Japanese culture, and as a result the Japanese beauty industry has turned out some strange contraptions.  Big eye contacts promise to enlarge your pupils for the appearance of wider eyes, collagen marshmallows are a tasty alternative to painful injections, and "F Cup Cookies" claim to significantly increase a woman's bust.
Although these products may seem a little wacky, Japanese beauty trends have begun to make an appearance in Western society.  Here are a few innovations to watch for:
Fish Pedicure: If the thought of fish nibbling on your toes gives you the creeps, this spa procedure may not be for you.  In many of their beauty treatments, the Japanese look to nature to cure and treat the body.  In this case, dunking your feet in a pool of Gama Rufa (more commonly known as "doctor fish") results in smooth skin.  But don't worry.  Those who have braved the experience claim that the procedure is painless and the results are unparalleled.
Nightingale Dropping Face Cream: The idea of rubbing bird feces on one's face doesn't appeal to most, but consider the resulting "brightened skin" promised by the product "Uguisno No Fun".  While Western society seems to prefer peels and rubs to remove skin, the Japanese aim to protect this top layer of skin through application of this product.  While you may not want to go as far as using bird poop in place of your nightly crème, this concept of protection is something to consider.
Sun Chlorella Supplements: Sun Chlorella is a superfood consisting of dried algae packed with vitamins, minerals and proteins.  It has been used for years and supposedly encourages cell renewal for healthy, beautiful skin, hair, and nails.  Considering how many Japanese women don't seem to age, there may be something to be said about the power of algae.
The influence of Japanese beauty products will inevitably push our own Western culture to grow and innovate.  Now is the time to begin creating!