Wednesday, June 6th, 2012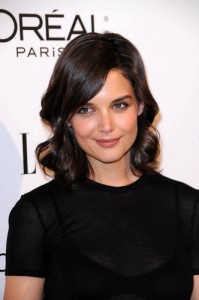 Katie Holmes has taken the fashion and beauty worlds by storm with her medium bob. This sassy and chic look can be seen in the pages of Vogue, Elle and every other high fashion magazine. It looks stunning in any setting, whether one is attending a red carpet event or grabbing an ice cream cone with the kids. Since Katie Holmes first appeared on the red carpet in 2008 with her medium bob, hair stylists remain inspired by the look and continue to alter it in different ways.
High-Class Bob Cuts
High-class bob cuts are also known as "personalized" bob cuts. These cuts are tailored by a hair stylist to frame your face in an interesting way. When a woman's hair has a geometric shape so that one side is longer than the other, this is an example of the tailored bob look. A stylist takes your cheek bone structure into consideration in cutting hair to the exact perfect length with this bob.
Unique Colors
Lady Gaga was seen wearing a bob with her hair colored in different hues of gray at a red carpet event just months ago. Gray has come back as one of the trendy hair colors of the season. While Katie Holmes has never been seen wearing gray, she has influenced the hair style behind this gray shade. Women look sophisticated and chic in the gray bob hairstyle. If you want to be on the cutting edge of the hair world, then try out a gray bob for a few weeks. A hair stylist can always alter the color if you find that gray isn't the look for you.
Choppy Layers
Choppy layers have never been hotter when paired with the bob look. Choppy layers are great for the woman who already has a head full of hair and wants to manage it. A hair stylist can eliminate some of the extra weight by cutting choppy layers into the bob style.
Straight Bangs
Straight bangs add a dramatic touch to any bob haircut. Katie Holmes was seen wearing straight bangs when she had the bob style. Straight bangs give a woman an air of mystery, yet they also add a sweet and innocent vibe to any look. Side-swept bangs are another rendition of this look. For the woman who wants a softer look without all the drama, side-swept bangs are the perfect option.
Short Length in the Back
Having the bob cut with a shorter length in the back is essential for this look. Look at any picture of Katie Holmes, and you will notice that her locks fall slightly longer in the front of her face.
The medium bob is a hair style that likely will stick around on the fashion scene. It has become a hair style that is adored by thousands of women.

s_bukley / Shutterstock.com