Friday, August 3rd, 2012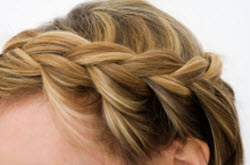 By obtaining a hair braiding license, you can increase your earning power every year. Even women and men with full-time jobs are pursuing a license for hair braiding because of the extra opportunities it provides for earning a side income. Hair braiding is an easy way to supplement an income in a difficult economy.
The typical cost of a hair braiding license is about $300 in states. You may pursue online coursework or traditional classes in fulfilling the credit hour requirement for obtaining a hair braiding license. If you decide to take an online class to obtain your hair braiding license, you may want to see whether study materials are provided for the examination. You may be able to obtain study materials that will help you pass the examination.
If you are just beginning to learn how to braid try the basic fishtail braid. Not only is it the most common style of hair braiding, it is also the easiest to learn.
If you take an online class, you will then be able to take the online quiz in order to receive your certificate. If you are able to pass the quiz with a score of higher than 75 percent, then you will be awarded your certificate. Your hair braiding license will be sent to you within two to four weeks after you take and pass the quiz.
By taking a hair braiding course, you will learn about the sanitation process that is required for braiding hair. You will also learn about the ways in which you should handle clients who have HIV or AIDS. When you are working with a client who has a communicable disease, you may need to pay special attention to the sanitation of the equipment that you use.
Another required part of the coursework that you will pursue for obtaining a hair braiding license is the study of disorders and diseases of the scalp. You will learn how to recognize diseases such as lice within the scalp. This will help protect you from obtaining the disease from your own client. Studying this aspect of hair braiding will also help you protect the other clients in your business.
It is essential to have a hair braiding license whenever you do hair braiding for other people and receive compensation in return. Under state laws, you may not practice the art of hair braiding without a license. You can actually receive expensive fines if you are caught hair braiding without a license in a salon. If you do fusions, semi-weaves or relaxers, you will also need to have a hair braiding license.