Friday, March 2nd, 2012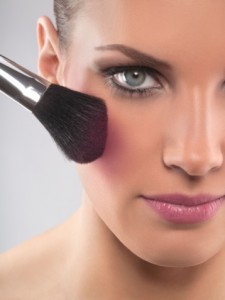 After a long absence, there was finally a hint of pink at New York Fashion Week as makeup artists returned to a pink cheek and lip color this season. And whether paired with neon lashes or power brows, the pink palette proved to be highly versatile in all its forms.
Pink cheeks created the immensely popular "doll house" look at Balmain, Oscar de la Renta and Louis Vuitton. Makeup artists used light reflecting foundation to impart the illusion of dew-kissed skin. Creamy blushes that ranged from sheer rose to petal pink helped achieve a delicate painted-on cheek.
While pink lips accentuated the sporty athletic look of DKNY, Isabel Marant and Timo Weiland. An assortment of berry-, coral- and rose-colored glosses and lipsticks set off the apricot glow of sun-swept cheeks.
A soft pink palette works well on all skin tones by day or night. Judging by the long list of stars popping up on the red carpet, it is a perennial favorite at the Oscars too. According to US Weekly, Tina Fey wore Ultra Shine Lipgloss in Sugar Pink by Tom Ford Beauty. Cameron Diaz wore Rouge in Love in Roses In Love by Lancome.
You can get the trendy pink glow when you start with a clean, exfoliated face. Apply moisturizer and a hydrating foundation or luminizer to create the look of dewy-skin. Brush the tops of your cheeks with a light pink blush. For a more sculptured cheek, add a moisturizing blush down the sides of your cheeks in peach bronze to create contours.
Prepare chapped lips with a thin film of lip balm. The Glamour magazine website recommends buffing lips with a damp washcloth or sliding a piece of ice along your lips to prevent lipstick from bleeding. The idea is similar to rinsing your face with cool water to close pores. From a physical science standpoint, cool temperatures force skin cells to shrink and prevent lip color from settling into the skin above and below your lip line. Keep in mind skin cells expand when they reach ambient temperatures and create a larger surface area, which leaves a gap between the lip color and lip line.
Apply a moisturizing lipstick straight from the tube, then blend the color with a fingertip or blot with a tissue to maximize staying power. Concentrate the color in the center of your mouth because that is where the color wears off the quickest. You can always add a layer of gloss for additional shine. The beauty of pale pinks is that you cannot go wrong. You can play it up or down and create a look that is all your own.
Train to become a make-up artist and find a job at a salon, make-up counter, production studio, photography studio, or cosmetic company! With one of our trusted makeup artist schools, you can quickly start down the path to becoming a professional makeup artist for weddings, theater, film, fashion or any other career path!