Friday, December 9th, 2011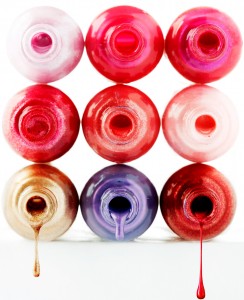 As you are preparing for the 2011 holiday party season, don't forget the little details that bring together an outfit – like your nail polish. There are many possibilities of designs to both match and accentuate your holiday fashion.
Get in the Spirit with Holiday Colors
There are a lot of holiday nail colors associated with Christmas that you can use to add some festival cheer to your attire. Red is the obvious go-to, but also consider some other possibilities, like rich greens, gold, blues or silvers. If your holiday party schedule is a little more on the funky side (rather than, say, work functions), get playful with your nail polish execution. Have one color on the nails of the left hand and another color on the right or alternate from several different colors with all your nails.
Go Glitter
Adding a glitter polish either on its own or on top of a layer of color polish can really jazz up your look. Whether the glitter you choose is silver or gold or some other bright-colored glitter, your hands are sure to attract attention as you mingle among guests at parties this holiday season.
Dressing Up Artificial Nails
If your own natural nails are short, chipped or otherwise nothing to write home about, you can still have fun this holiday season. As a holiday treat for yourself, plan to go to a nail salon to have artificial or gel nails placed on your hands. You can ask the nail artist to take an impression of your cuticle shape so you can easily switch between designs for different holiday parties.
Embrace Holiday Nail Art
Want to get really into the holiday spirit? Nail art takes basic nail polish to a whole new level, creating everything from interesting designs to full out holiday scenes right on your nails. It may be easiest on those who have longer nails – either natural or acrylic – but don't be afraid to experiment! A tiny Santa or presents on each fingernail? Go crazy! What about snowflake nails like the one in this tutorial? Perfect not just for the holiday season but for spicing up your whole winter wardrobe.
The most important thing to keep in mind is that your holiday nail style is all your own. Even if you are not normally the artsy type, it doesn't require a lot of work to dress up your nails at the same time you are dressing up the rest of the you. Think of your nails as an empty canvas just waiting for your own personal expression. With all of the comments that you are sure to get and the fun you are bound to have, you won't regret having lived it up a bit.