Wednesday, April 25th, 2012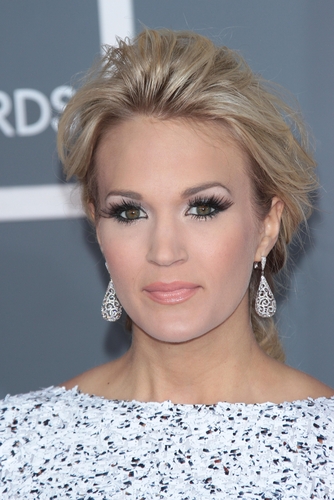 Carrie Underwood has a naturally glam appearance that wows, but does not over power. No one looks at her and feels like they are being ambushed, they see only simple grace that can keep up with the most glamorous of the glam. How can you get the Carrie Underwood look without a make-up artist and stylist? It is not as hard as it may sound if you follow a few simple tips.
First, let the neckline determine the hairstyle. A key person in the Underwood camp notes that generally, when Carrie wears a strapless top or dress she wears her hair down. An example is the pretty strapless number worn at the Academy of Country Music Awards. Carries soft curls were pinned to fall over one shoulder and it worked perfectly. By contrast, an up do is perfect for a higher neck or halter.
Eyes are where it's all at. Carrie's eyes pop with the smoky eye look. This look can easily be replicated with dark liner, volume adding mascara, and properly applied shadow. Cover the lid from eye to crease with a medium shade of the chosen color, the do a darker shade at the base of the lid and a lighter shade in the crease to easily replicate Carrie's most glam eye look.
As for the rest of her face, it seems that a variety of bronzers and highlighters give her face that fresh, glowing look. A light bronzer on check bones topped with a dewy blush will work for everyday, and remember that the best way to get that glow is healthy skin. Eat right and drink plenty of water to give yourself a head start.
Lips are kept natural but not nude. If you go overboard they will compete with the eyes, but if you leave them alone they will blend in and disappear. Try a liner one shade darker than your natural lip color, and fill in with a clear or softly tinted gloss. For a mat look, fill in lips with the liner and move on.
Carrie's look is both glamorous and timeless. In today's over done world, it is a breath of fresh air and one that is well worth learning to replicate.