The Secrets Cosmetology Schools Use to Extend Hair Color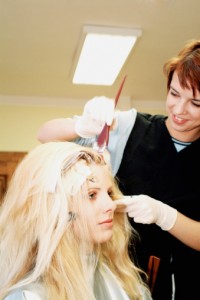 Perhaps you have wondered why your hair color does not last as long as your friend's color? Maybe you have pondered what you can do to prevent fading? You may be surprised and frustrated to discover the environmental threats that undermine your hair color on a daily basis. Thankfully, you can take a number of steps to curtail fading and extend the life of your color.
The degree of fading often depends on the shade and type of color used. Katy Perry's temporary blue hues probably will not last as long as Christina Aguilera's permanent platinum locks because of the way the color is deposited. Temporary hair dye only coats the outside of the hair shaft and typically lasts one to six washes. While permanent hair dye penetrates the hair shaft to deposit or lighten the pigment of natural hair and lasts four to six weeks.
The most frequent cause of color fade relates to the hair care products themselves. The most common ingredients in soap, shampoo and conditioner rob color from hair, and chief among these is sodium laurel sulfate. In order to avoid sodium laurel sulfate, you will need to use products specifically designed for color-treated hair.
The chemicals in hair dye remain active for quite some time, so avoid washing your hair for at least 24 hours after coloring. When you first shampoo, start with warm water to open the cuticle and finish with cool water to close. Wash your hair this way to lock in color and boost shine.
Ultraviolet light interacts with certain pigments in hair dye and causes an oxidation reaction that produces gold and brassy tones. Invest in products that block the sun's UV rays. Do not to forget to keep you hair covered on days when the sun is intensely bright.
Exposure to chlorine can strip the color from your hair. Stay away from the pool for two to three days after you color. Beyond that, all you can do is protect against chlorine shock and buildup. Wet your hair with bottled water upon entry and exit of the pool. If you swim frequently, use a clarifying shampoo to remove any lingering traces of chlorine.
Skip the blow-dryer because excessive heat zaps the color from your hair. Let you locks air dry instead. When you exit the shower, gently ring the excess water from your hair and blot it with a towel. If you need to use a flat iron or other styling device, apply a product designed to protect hair from heat damage.
Routine trims eliminate faded ends and go along way toward keeping your hair healthy. If you use permanent dye, you can restore the color with touch ups. Let the dye primarily set on the roots. Do not apply color to the ends until the last five minutes. Allowing dye to set on the ends for excessive periods creates a dull buildup.
Last updated by admin at .
Tags: Beauty Trends, Celebrity Trends, cosmetology schools