What can an esthetician do for you?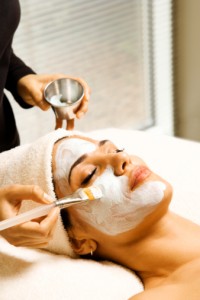 After a long and difficult week at the office, many of us like to unwind by treating ourselves to a relaxing day at the spa where we can leave behind our worries and focus on ourselves. The International Spa Association (ISPA) has taken notice of this trend and reported close to 57 million adults and 4 million adolescents make at least one visit to a spa each year. With more and more people seeking non-medical options to improve their health and revitalize their spirit, those working in the spa services sector – dermatologists, estheticians and medical estheticians have seen a dramatic increase in clientele wanting to utilize their services. If you are interested in alternative ways to reduce your stress and improve your health, look into the different services and benefits an esthetician can bring to your life.
 What Is An Esthetician?
Estheticians work in the spa services sector and specialize in skin care and spa therapies. Estheticians must hold a license, which is issued by the state, in order to provide services in a spa setting. Estheticians generally perform cosmetic skin treatments such as facials, extractions and body treatments. Medical estheticians work under the direction of a dermatologist or cosmetic surgeon. While medical estheticians cannot prescribe medications, they are able to perform advanced skin care treatments.
Many people confuse estheticians with dermatologists. A dermatologist specializes in skin, hair and nail care and can also perform surgical and cosmetic treatments. Dermatologists are required to hold a medical degree in order to practice in the U.S.A as a medical doctor, dermatologists are also able to prescribe medications.
 Spa Treatments for the Face
Dermabrasion treatments, facials and extractions are some of the most popular services estheticians provide. In many cases, estheticians will develop a variety of custom-designed facials to help clients deal with different skin-related issues such as peeling skin, dry skin and oily skin. Estheticians also provide dermabrasion and microdermabrasion services to help clients reduce the appearance of wrinkles, tighten the skin and remove skin discolorations and other blemishes.
 Spa Treatments for the Body
In addition to facials, extractions and dermabrasion treatments, estheticians also provide an array of body treatments that remove unwanted hair, smooth and contour the body and relax the mind and spirit. Sugaring, body contour treatments and waxing are some of the most requested services. Estheticians can also perform a variety of massage treatments as well.
 The Benefits of Spa Therapies
Research has proven the positive benefits of spa treatments as many work to relax the body, mind and spirit. For instance, a Japanese study that followed over 3000 government workers revealed that workers who received regular spa treatments had better physical and mental health, a better quality of sleep and requested fewer sick days. Another study performed by Florida State University and George Mason University found that workers who underwent spa therapies performed by estheticians had a decreased chance of being hospitalized for illness and also had better attendance compared to employees who did not engage in spa therapy.
Last updated by admin at .
Tags: esthetician, esthetician training, esthetics