Attract A Jughead – Archie Themed Make-up Line Now Available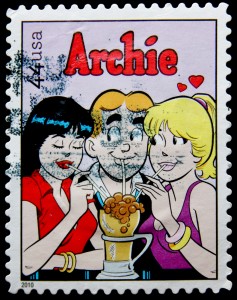 MAC is one of the most innovative and creative cosmetic companies in the marketplace. Known for offering women a selection of makeup that is theatrical and stunning, MAC continues to find new ways to intrigue its customers. Just recently, the brand line has decided to introduce a line of Archie-themed cosmetics onto the marketplace.
Maybe you're not sure whether you look more like a Betty or a Veronica. A MAC makeup artist can help you figure out your inner Archie character. At the San Diego Comic Con, MAC plans to host some of its makeup artists at the event in order to help comic fans glam up their looks. Dan Parent is an Archie comic sketch artist, and he will actually be at one of the MAC stores in San Diego on the day of the comic con festival. During the festival, Parent will show fans how he completes his sketches. Fans will be able to ask him any questions that they have about the Archie comic series.
In addition to meeting Dan Parent, comic con fans will be able to schedule a makeup appointment with one of the MAC makeup artists. During their appointment, fans will be able to receive a comic-con inspired look. They will be able to extend their eyelashes or add glitter to their eyelids. Perhaps one wants a dramatic deep shade of lipstick to entice other fans at the festival. Whatever one wants, a MAC makeup artist will be able to help him or her achieve.
Archie Comics: The makeup collection! – New York Daily News nydailynews.com/life-style/1.1… via @archivedigger

— ✄ Felicia Underwood (@jobsinbeauty) October 4, 2012
The fact that MAC is hosting its makeup artists at the comic con festival is no surprise. For years, MAC has been one of the leading makeup brands to supply makeup for celebrities and actresses on Broadway. MAC is synonymous with individuality and a city-chic look. It is the perfect type of makeup to wear out for a day on the streets of New York City. When one wants to add some drama to his or her daily life, MAC makeup products will help him or her with the task.
Archie and the gang go to Riverdale High School
MAC is known for helping individuals find their inner sense of self. If you decide to attend the comic con festival, you should let MAC professionals help you express your inner beauty and goddess. MAC professionals are on hand to help you learn new makeup tips. They will also help you add a bit of edginess to your daily look.
Last updated by admin at .
Tags: archie comics, jughead, mac cosmetics