Monday, December 10th, 2012
For the longest time, I wanted be one of those cool girls who made YouTube videos. I am usually more action oriented than this but there was something about making YouTube videos that kept making me saying "One day….".  After several years of having this on my to do list, I got the push that made me forget about the fear. You may be thinking, what could be so scary about it? For me, I was really stuck on the idea that I didn't know how to film, edit and upload a video. When I saw a contest that L'Oreal put on through YouTube, I was not about to miss the opportunity to put my name in the hat.
When I found out about the contest, there was one week left until the deadline. I had just gotten a MacBook Pro and I didn't know how to use it very well, but I learned quickly. I used my laptop to film myself doing the Red Carpet makeup tutorial for the L'Oreal contest. Then came the tricky part of editing it to fit into the under 4-minute time limit and learning how to do the voiceover to tell people what I was doing in the video. I think that the short time line made me forget that I was also a little nervous about looking silly. As it turns out, people want to see you having fun and being yourself. I was so overwhelmed but I really wanted to use the contest and this deadline to push myself to make my first video. Since then, I have learned some more tricks and I've gotten a little better. I am still learning but it has been so fun.
It is a challenge to come up with new content, but it is fun.  I really enjoy hair styling videos, like this one on how to do a sock bun or how I style my hair with hot rollers. Quick makeup tips are fun too, like this one on how I layer eyeliner for long-lasting results. I really get excited to share when I find awesome tools like this one, and people love to hear about a stylist's favorite products.
What l love about YouTube is that is an incredible platform for establishing yourself as an expert. I add my videos to my blog. My readers love to see me in action and it has really expanded my followers. You can also Pin your videos to Pinterest. I have a board that is just for my vlogs. Pinterest has been a great resource for growing my audience.  Every time you upload a video to YouTube, that is posted to Twitter. You can also share your pins, if you are pinning your videos on Pinterest, on Facebook and Twitter. So that one video gives you a great deal of exposure on many social media outlets and can help you connect with a wider audience. You have been working so hard to build your skills as a stylist, now get out there and show them off!
I want to share this with you for several reasons. The first is that if I can do it, anyone can do it! Seriously, I feel so silly now after waiting so long, how easy it was once I decided to just do it. Video is a really easy to use DIY outlet for showing the world your skills. What better way to establish yourself as an expert than to show people how to do something. People love to see people, like you, who are talented and passionate about their skills. So get out there and show them what you've got.
Social media is a great (and FREE way) to show off your skills and build your business. With all social media, consistency is key. I challenge you to set a goal for yourself. If you are utilizing YouTube, set a goal to do one new video each week or month. If video isn't your thing, you can also use Instagram to your advantage. Challenge yourself to post a daily look of the day or favorite product shot. Follow other stylists and makeup artists to stay inspired. Most importantly, HAVE FUN!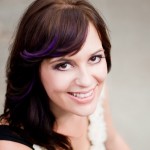 From a long line of women in the beauty industry (3 aunts and 3 cousins are stylists), Emily Huspeth grew up in a beauty shop in central Louisiana. Emily is also addicted to education and learning everything she possibly can. While studying Public Relations and Business  at Louisiana State University, Emily worked at an Aveda Salon in the mall. Immediately after graduating, she enrolled at Aveda Institute to study cosmetology. With cosmetology license in hand, Emily ran to the West Coast to work as an apprentice in a Santa Monica salon with some of the best stylists in Los Angeles and became an official stylist herself. From there Emily started working as a freelance artist, doing hair and makeup for special events and commercial film and print advertising. Emily has created a program to help others who are working to build a profitable career as a freelance artist. View Emily's videos on YouTube or visit her site, EmilyHudspeth.com.