Posts Tagged 'skin procedures'
Thursday, November 29th, 2012
Friday, October 7th, 2011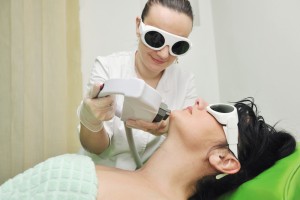 The other day, a Groupon popped into our inbox promoting photorejuvenation, and even though we work in the beauty industry all day, we had a little trouble defining exactly what it was that we now had a coupon for. We could kind of break it down – "photo," which generally has to do with light, which we're a fan of; and "rejuvenation," which is always a positive thing in our books – but what were the down-and-dirty details of this procedure?
Basically: what, exactly, is photorejuvenation? (Hands down, estheticians – we know you probably have the answer already!)
Photorejuvenation is a skin treatment that uses intense pulsed light (which you might see just referred to as IPL) to treat certain skin conditions and sometimes remove wrinkles caused by UVA and UVB exposure. Apparently it can be used to:
Lighten or remove sun spots, age spots or other brown discolorations
Lighten or reduce rosacea, dilated blood vessels or broken blood vessels
And (to lesser effect):
Improve skin texture through collagen stimulation
Improve pore size by temporarily reducing oiliness
So, in general, this procedure improves our skin's tone and texture. It's non-invasive, only really affects the very top layers of the skin and is filtered so that no UV damage is possible, so a lot of the time, the only side effects people feel are flushed skin that's akin to a very mild sunburn. Most places that offer photorejuvenation require 3-5 initial treatments for optimal results, and after that, you might have to come back for a maintenance treatment every few years or so.
Seems pretty harmless, right? Why NOT get it?
There are a couple of things to keep in mind – like tanning. Most places don't recommend the procedure if you have a tan or tanned skin, so it's not for everyone. Also, some people may experience more extreme side effects, like burns or blisters, scarring, or changes in pigmentation. It's rare, but it's still possible. Your best course of action is to go to a professional skin care specialist and consult with them about whether photorejuvenation would be a good option for you.
There! That's it in a nutshell. We're planning on this being just the first in a series of articles that explores some of the high-level, high-tech skin care services that fabulous estheticians are offering these days, so be on the lookout for explorations into dermal fillers, sclerotherapy and more!
And then be on the lookout for the Groupons that are sure to pop up.