Wednesday, September 16th, 2009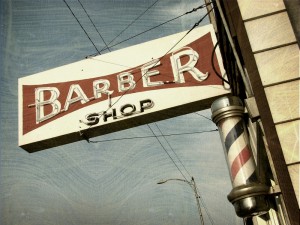 Something big is brewing in Texas. Cosmetologists and barbers are both feeling pretty indignant, and judging by the comments in articles like this, their clients have pretty strong feelings, too.
So here's the deal: some Texas cosmetologists are challenging laws that allow barbers – but not cosmetologists – to shave customers. Cosmetologists want to be able to legally shave their customers, but barbers (who feel that cosmetologists are encroaching on their monopoly over men and boys already) want to keep the razor-wielding privileges for themselves.
Now, Texas law has allowed cosmetologists to trim beards and mustaches since 2001. But where does trimming end and shaving start? Texas has no legal definition of shaving, or even of a "razor."
That means we're not just talking about Sweeney Todd-style straight razors? Umm … nope. Legally, Texas cosmetologists can't even take a pink Lady Bic to the bottoms of a client's sideburns. The cosmetologists feel like this is silly – they've been handling safety razors since they were preteens, and even tattoo artists in Texas are allowed to use disposable razor to shave the area they're going to tattoo.
Barbers, on the other hand, feel like their exclusive right to shaving customers represents the last thing that sets them apart from cosmetologists. Trained in the 14 distinct strokes of the classic straight-razor shave, they feel they've earned the right to at least a small population of men.
So … what do you think? Is it silly that cosmetologists (who often undergo longer beauty training programs) cannot shave their customers, even with safety razors? Or do barbers have a right to hang on to something that's set them apart since the days of white-and-red striped poles?