Tuesday, December 6th, 2011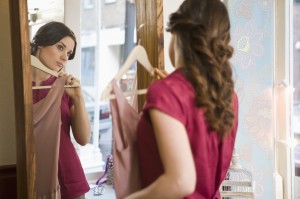 The holiday season is officially in full swing and that can only mean one thing: holiday parties! We know, looking fab at all off those functions can seem overwhelming but don't worry, we are here to help. We have compiled some of the best styles out there so you will be ready to hit every party looking your best.
Likely you'll be hitting up a company Christmas party. Just about every company throws one, and it's the best opportunity to show off your feistier side. For any company soiree you will be better off sticking to a knee-length number which a little sheerness in the sleeves, but don't feel like you have to limit yourself to boring black. Go for red or green to jazz things up – just try to steer clear of any major cleavage when you're hanging lose with your coworkers.
What if you're going to meet the in-laws for the first time or maybe just attending a party with the family? Either way, you want to look your best, and a tea-length frock with a square-cut or asymmetrical neckline in your favorite festive color will help you do just that. Pair it off with a piece of statement jewelry and your favorite cardigan, and even your more conservative grandma will be squealing with delight!
Okay, so you have got the company dinner down and dinner with the 'rents, but what about that night out on the town with the gals? A shimmery long sleeve tunic dress, paired with your favorite booties and opaque tights, will keep you toasty warm and comfy, while getting some much needed girl time with your pals. And you can trade the booties and tights for a bare leg and some peep toe pumps for when the girls decide they would rather dance the night away.
Sequins are so much fun that they should be an everyday staple, and the holiday season is the perfect time to bring out that sequined cocktail dress you have been storing in the back of your closet. Pair it off with some platform heels, a matching clutch, and you will have a look that is worthy of ringing in the new year.
The holiday season is the one time a year when you don't have to worry about playing it safe when it comes to fashion. And no matter what kind of gala you are attending, these ideas for holiday party dresses will have you looking your absolute best. Top it off with a fun-loving attitude and a beautiful smile, and you will be the center of attention wherever you end up.