Friday, August 17th, 2012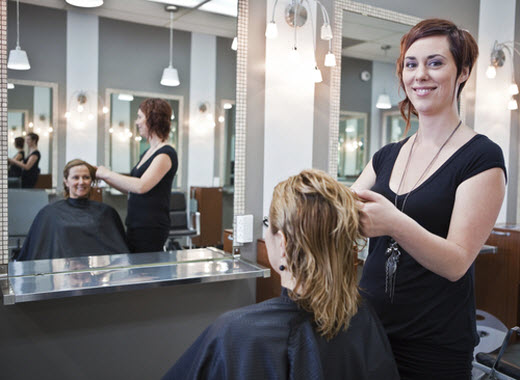 Going to beauty school can open up new and exciting opportunities in a person's life. Perhaps you are currently working in a profession that you find unfulfilling. You may want to think about trying a new career where you can better express your creativity and provide clients with the latest hairstylists. Pursuing a cosmetology career can help you feel more fulfilled in your life. You can decide to pursue a cosmetology license even if you work on a full-time basis. Cosmetology schools offer a variety of evening and daytime classes to fit into your schedule.
The typical cosmetology program requires that you complete 1500 to 2100 credit hours. You will have to check with your state's own requirements regarding the number of course hours that you must complete to receive your license. If you decide to pursue cosmetology school on a full-time basis, then you will likely be able to complete the program in as little as two years. It may take longer for you to complete the course hours if you decide to do a study abroad program during cosmetology school.
If you decide to pursue cosmetology school on a part-time basis, then you may need three or four years to finish the program. People are able to finish beauty school in fewer years if they decide to take semesters with additional courses in their course load. You should seriously consider your commitments before you go to beauty school. You may find that you want to stay focused solely on beauty school during the completion of your program. This may help you get the most out of your education, and you may be able to also focus on internship opportunities during beauty school.
If you are concerned about how long it will take you to complete beauty school, then you may want to meet with an admissions counselor or administration worker who can help you. He or she will help you develop a realistic plan for obtaining your cosmetology certificate as soon as possible. You may also decide to develop a plan that specializes in a particular beauty field. You may want to become a laser hair removal specialist or hair colorist. There are certificate programs that you may be able to complete on top of the course requirements that you have for a beauty school program.
There is no real answer to this question because it all depends on three factors: which beauty program you enroll in, your state's required hours for that program, and whether you enroll in cosmetology school on a part-time basis.
By pursuing a cosmetology program, you will be able to live out your dream. Being a cosmetologist will give you the flexibility to determine your own hours in your career. You can decide to work on a part-time basis or rent a booth in a salon. Being a cosmetologist allows you to enjoy independence in working with new clients and the ability to set your own schedule.