Tuesday, April 17th, 2012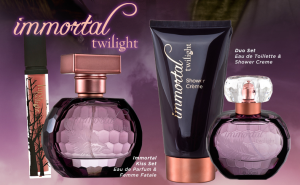 It's every hopeless romantic's dream to lure in the dreamy vampire and to live in a world where reality and mystery collide. Some of us want Bella's irresistible beauty, while others of us want to embody the sultry timelessness of the Volturi.
At Twilightbeauty.com, an online cosmetic retailer, you can purchase all things Twilight from makeup and body products, to fragrance and nail polish. Here are the products you need to create that natural sparkle, enduring eyes and infatuating fragrance:
• The Immortal Fragrance: This fragrance is a harmonic blend of citrus and wild chamomile, with a harmony of white freesia and peony. It brings out the natural feminine fragrance of patchouli, amber and musk.
• In the darkness of the Forks forest shines a Luna Twilight: This is a line of Gleam Metallic Mascara, Moonshadow Eyeshadow, Femme Fatale Lip Gloss, Venom Blush, First Light Face Glow and Mortal Glow Blushing Crème. These products highlight the natural radiance of your beauty, creating an illuminating glow that resembles Bella's beauty.
• Love versus lust, and the undying beauty of the Volturi: The Volturi Twilight cosmetic line includes Crown Metallic Mascara, Foreshadow Eyelid Primer, Labyrinth Loose Eyeshadow, Enrapture Lip Gloss, Venom Blush, Immortal Body Shimmer and Reign Body Mist. The colors are of timeless royalty.
• Nox Twilight: Inspired by the Cullen coven, the Nox Twilight line includes nail polish in colors ranging from the dark Black Tie to light feminine Chiffon.
It's now your time to begin your story, it's time to feel the desire and create the essence of romance we all have come to love.