Friday, July 27th, 2012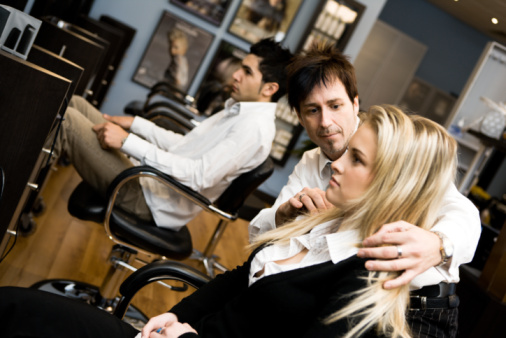 In every field there are top professionals that are superstars at what they do, including cosmetology. Successful cosmetologists usually have a combination of natural aptitude and professional skills that have been fully developed. To really shine in the cosmetology field, a cosmetologist must put her best self forward, have certain physical abilities, know standards and techniques and use her creativity to her client's advantage. Overall, she must provide excellent customer service.
Presentation and Personality
For a cosmetologist, putting her best self forward means developing good grooming habits and cultivating a pleasant personality. Clients look at their cosmetologist as an example of fashion and beauty. Having the latest look and being completely put together instills confidence in her clients, and a welcoming demeanor puts them at ease.
Good with There Hands
A cosmetologist must also have the physical ability to use her hands deftly to create hairstyles, give manicures or provide other cosmetology services. Repetitive hand motions are required for top cosmetology performance.
Knows Standards and Techniques
Cosmetologists with the right appearance, personality and manual dexterity must also know their stuff. They must back up their looks, personalities and capable hands with knowledge of industry standards and various techniques. They must be competent and versatile, both looking like and truly knowing what they are doing. For example, it is necessary for a cosmetologist to know and comply with sanitation standards in order to provide quality services.
Takes It to the Next Level through Perception and Creativity
It is necessary for a cosmetologist to develop a sense of what will look best on her clients. An eye for color and style will serve her well. Visualizing ideas and making recommendations is necessary to achieve attractive results. A cosmetologist who can make appropriate recommendations and adapt techniques to each individual client knows how to do more than execute standard techniques. She knows when to put each technique to work and how to make it best suit her client.
Developing these qualities can lead to outstanding customer service and professional achievement for a cosmetologist. An aspiring cosmetologist can transform herself into a skilled customer service professional as she learns to transform client's appearances through haircuts, manicures, facials and other professional services.