The Top Eleven Worst Hairstyles in Sports (Past and Present)
There's no doubt that being a professional athlete takes a tremendous amount of natural talent and skill. That's why they're called professionals, right? Well, for certain pro athletes, the money and the fame of being recognized as a master of their craft apparently isn't a good enough deal. Either their fame isn't at the level they wished it was and are looking for more attention, or simply, they just have really bad fashion sense.
Either way, there is no denying the large amount of awesomely bad hair in professional sports, both past and present. Unfortunately, this list can't include them all, but it does justice in finding some of the best, worst hairstyles out there. So sit back and enjoy the fact that you're hair isn't mentioned on this list…or is it?
11) Chris "Birdman" Andersen (Denver Nuggets)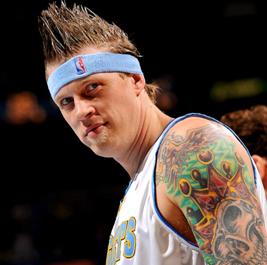 Chris Andersen – better known as "Birdman," well, for obvious reasons – plays in the NBA for Carmelo Anthony's squad, the Denver Nuggets. At first glance you'll probably notice his rooster like faux/mohawk to go along with his mass amounts of bird referencing tattoos. At 6' 10", Birdman might have the largest wingspan of any bird or man…literally.
10) Joakim Noah (Chicago Bulls)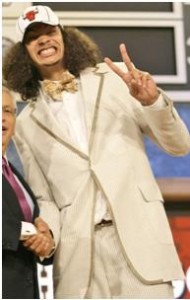 For rather obvious reasons, Noah ends up on this list of awesomely bad sports hair. Beyond your initial look, you might catch yourself thinking, "Wow, he really looks like something I've seen before, but I just can't put my finger on it." Well, try putting a paw on it because Joakim Noah is a 6'11" poodle. Just check out how that mass amount of hair frizz flows out from his cap like delicately groomed poodle ears. Unfortunately for Noah, the poodle-look isn't really in when it comes to actual people. Sorry.
9) Troy Polamalu (Pittsburgh Steelers)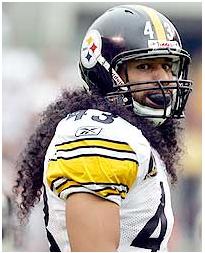 He might be one of the nicest players and best safeties in the NFL, but that doesn't excuse his Slash style Rock n' Roll hair. Seriously, even with his helmet, his mop top reaches his lower back, and in case you weren't sure, he's not exactly the smallest guy around. Sorry Troy but maybe you should ditch your KISS inspired 'do and opt for something a little more intimidating. I'm sure locks of love would love to have that hairy mane.
8 ) Tim Lincecum (San Francisco Giants)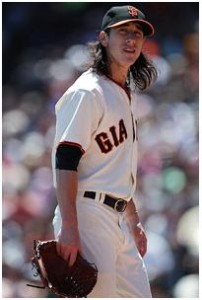 In a year where baseball became the battle of the pitchers, only one emerged victorious both on and off the field – Tim Lincecum. Not only did Lincecum help pitch the Giants into 2010 World Champions, he also – on a less epic scale – won the best, worst hairstyle in pro baseball. It's not that his long locks are of ridiculous proportions, rather, it's that they make him look like a dark-haired twin of Tatum O'Neal from the classic flick Bad News Bears. And, that's probably not a good thing since she was like 12 years old in that movie – oh, and a girl.
7)  Andre Agassi (Pro Tennis Player)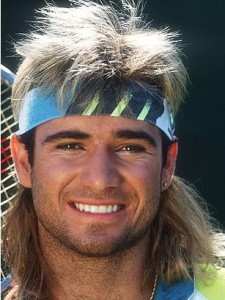 Hey, the 80s happened to everyone who lived through them – both famous people and commoners alike. It's a decade where people learned, tried and ultimately failed at a lot of different fashion scenarios. Unfortunately for Agassi, he definitely falls into the failed category. His then layered locks and hot neon bandana makes one unsure of whether Agassi was, in fact, a former tennis star or the lead singer of 80s hair metal gods, Poison? You be the judge.
6) David Beckham (Professional Soccer player)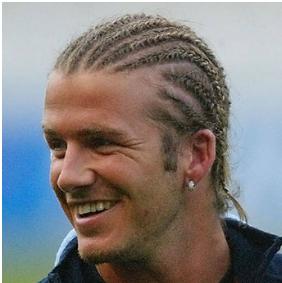 Now, David Beckham has made a lot of good fashion moves in his successful soccer career, except for one incredibly bad one – cornrows. David you're not Reggae/hip hop sensation Sean Paul, and even if you were, that's still no excuse to design your hair based on a geographical landscape that people use to grow vegetables.
5) Ron Artest (Los Angeles Lakers)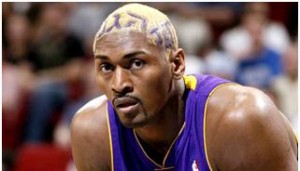 Known primarily for his on-the-court antics, Ron-Ron is just as well known for his infamous hair coloring and hair stenciling. In fact, no one seems to remember Artest flipping out and punching that unfortunate fan or the long laundry list of his other shenanigans, but people do seem to remember his ludicrous hair. We can all agree that Artest might be basketball's bad hair successor to Dennis "The Ridiculous" Rodman.
4) Scott Pollard (Retired NBA player)


With Mr. Pollard it's hard to pinpoint exactly which ridiculous hairstyle of his was the worst because frankly, he had too many to name just one. As a clean-cut college basketball player at the University of Kansas, Pollard took a different approach during his eleven-year NBA career. Whether he was sporting his Civil War era mutton Chops, impersonating a goat or trying out his lumberjack look, we can all agree that he certainly had a hair fetish.
3) Randy Johnson (Retired MLB pitching legend)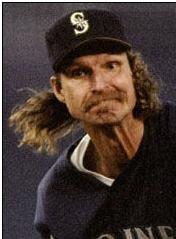 Randy Johnson was a simple man and a phenomenal pitcher during his pro stint; however, he wasn't the most fashionably sensible person. Unfortunately, during the 90s the mustache made quite the fashion comeback, so you can't fault Johnson too much for that since nearly every major leaguer donned the stache. Really, Randy Johnson made this list because if country legend Alan Jackson were to play baseball, well, he'd look just like Randy Johnson. It may be "Five O' Clock Somewhere," but you and Randy look like each other anytime, everywhere.
2) Brian "The Boz" Bosworth (Retired Seattle Seahawks NFL Linebacker)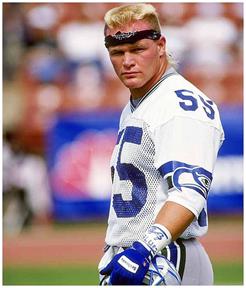 Yep, the mullet crept its way into stardom during the late 80s and early 90s, and as a result, many professional athletes – unfortunately – wore it proudly. However, out of all the pros to sport the business in the front, party in the back, Bosworth was one of the most notable, probably for his bad boy persona. Looking back, if the mullet were created for just one person to ever wear, we should all think about nominating "The Boz" to shoulder such a burden.
1) Dennis Rodman (Retired Chicago Bulls Forward and Wanna-Be Movie Star)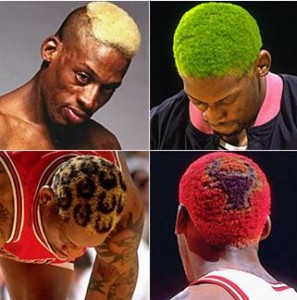 Don't act like you're surprised – you knew # 1 could only belong to the infamous Chicago Bulls star. Both on and off the court, Dennis Rodman had so many outlandish hairstyles and colors that the rainbow couldn't even contain them all – ironic, because Rodman at one time did, in fact, have rainbow hair. You want to know the true meaning of life? Then don't look at a slideshow of Rodman's hairstyles.
Last updated by admin at .
Tags: andrea agassi, brian bosworth, chicago bulls, chris birdman, david bechkam, dennis rodman, denver nuggets, joakim noah, lakers, MLB, NBA, pittsburgh steelers, randy johnson, ron artest, san francisco giants, scott pollard, seattle seahawks, soccer, sports hairstyles, tennis, tim lincecum, troy polamalu, worst hairstyles in sports